Lilah Ward is used to being the center of attention. The eighth grader from West Memphis, Arkansas, is a cheerleader for her junior high school's football and basketball teams. Her position is flyer, which means that when her squad forms a pyramid, she's on top.
"It's a small town we live in, so people recognize her," said her mother, Sheri Boykins. "They say, 'Oh, you're that cheerleader from school.' "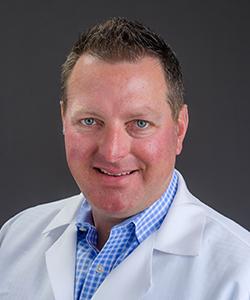 Ward is also easy to recognize because she has achondroplasia, the most common form of dwarfism. People with this genetic condition have an average torso but shortened limbs. They also are at high risk for several serious health issues, ranging from sleep apnea to a narrowing of the spinal column.
It's important for people with dwarfism — or skeletal dysplasia, which is the medical term for the family of conditions — to find a doctor who understands the challenges they might face and has experience treating them. MU Health Care pediatric orthopaedic surgeon Dan Hoernschemeyer, MD, developed an interest in treating patients with dwarfism during his training at the Johns Hopkins School of Medicine. One of his mentors there was Michael Ain, MD, a pediatric orthopaedic surgeon who has achondroplasia.
"The patient population really embraced him, so I would get to see patients from all over the country and even outside the country with different skeletal dysplasias," Hoernschemeyer said. "When I left there and came to the University of Missouri, I continued that passion for treating patients with skeletal dysplasias."
Now, dwarfism patients of all ages from as far away as Hawaii come to Columbia, Missouri, to see Hoernschemeyer. He serves on the medical advisory board for the Little People of America organization and frequently attends regional meetings to speak to members and their parents about health topics. Ward and her mom met Hoernschemeyer in 2011 at an LPA meeting in Wichita, Kansas, and continued to consult with him at LPA events.
"I find that my LPA patients embrace their differences and they're proud of who they are," Hoernschemeyer said. "As their physician, I really try to help them, not to change these differences. My goal is to keep them as independent as possible. Whether I'm treating a teenager getting ready to go to college or a schoolteacher or a retired librarian — just to name a few of the occupations of my patients — they want to get back to doing what they love to do."
Boykins said she waited until her daughter was about 5 years old to explain that she was not going to grow as tall as her parents and friends but that she could still accomplish whatever she set out to do. Ward has developed into a confident teenager who doesn't worry much about the opinions of others. When mother and daughter moved from Wichita to West Memphis, Ward had to meet a different group of classmates, but she quickly made new friends.
"Sometimes people don't give kids enough credit for being nice and welcoming," Boykins said. "We haven't experienced bullying or anything like that."
Ward joined the cheerleading squad in seventh grade, and once she got over her nervousness about being tossed in the air and posing on the shoulders of her teammates, she developed a passion for the sport. Cheerleading also allowed her to expand her social circle.
"It helps me make new friends and have more friends to hang out with," she said. "We're all girls, so we like to talk, play games, do each other's hair, make TikTok videos."
Unfortunately, pain associated with bowed legs — another common issue for people with achondroplasia — started to make it difficult for her to cheer at games. Mother and daughter turned to Hoernschemeyer, who had told them in previous consultations at LPA events that Ward's bowing legs could become a problem. After a telehealth appointment, Hoernschemeyer determined Ward would benefit from surgery to straighten her legs.
In September 2020, she had surgery in which Hoernschemeyer repositioned the bones of her lower left leg. She will have the same osteotomy procedure on her right leg in March 2021. Ward's goal is to go swimming this summer and cheer again next fall.
Ward, whose long-term plans include becoming a neonatal nurse, likely will face more health issues related to achondroplasia in the future. She and her mom are reassured that they found a doctor who can guide and treat her throughout her life.
"It makes a huge difference to have somebody who's knowledgeable about achondroplasia," Boykins said. "We've built this relationship over the years with Dr. Dan, being comfortable with him. It's worth the drive for us. We know he's going to do the job right and we're not going to have issues."