Scoliosis is an abnormal curvature of the spine that usually occurs during the growth spurt children experience just before the onset of puberty. On an X-ray, the spine of a person with scoliosis looks more like an "S" or a "C" than a straight line.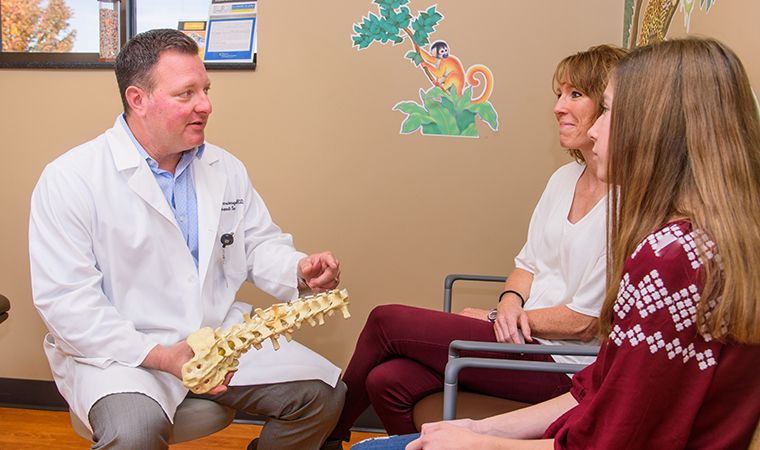 If you think your child has scoliosis, or if your child has been diagnosed with scoliosis, you want the most experienced physicians and leading-edge treatments available. Specialists at Children's Hospital are here to help you determine the best course of care. Depending on your child's situation, treatment may include observation, bracing or possibly surgery.
Scoliosis can range from mild to severe, with the most severe cases impairing proper lung function and causing back problems. The most common form in children is idiopathic scoliosis, which means the cause is unknown. Our doctors evaluate your child and develop a personalized treatment plan that works for your whole family.
Scoliosis Symptoms
The symptoms may include:
Uneven shoulders.
The appearance of a rib hump when bent over.
One shoulder blade more prominent than the other.
Appearance of a leg length discrepancy.
Diagnosis
Diagnosis involves a detailed history, examination and often X-rays to determine the spine's curvature, or Cobb angle.
The Cobb angle measures the area of the spine with the greatest tilt and determines the severity of your child's scoliosis and ultimately his or her treatment options. A Cobb angle of 10-25 degree is considered mild, 25-40 indicates moderate and an angle of greater than 45 degrees is severe.
Scoliosis Treatment
Treatment of idiopathic scoliosis depends on the magnitude of the curve, its progression and the skeletal maturity of the patient. A Cobb angle less than 25 degrees generally does not require specific treatment, however close frequent monitoring should occur if your child is "skeletally immature," or still growing.
Bracing
Scoliosis bracing is considered the first line of treatment in curves at about 25 degrees in a child who is still growing. Bracing has been shown to be effective in preventing curve progression, with the ultimate goal to limit curve progression until growth is complete.
For some children, their curve angle and stage of puberty puts them at greater risk of scoliosis that worsens despite bracing. If your child is bracing to prevent their scoliosis from worsening, ask their doctor if they are at risk of scoliosis progression and whether they might be a candidate for vertebral body tethering (VBT) surgery.
Benefits of bracing:
Although bracing does not permanently reduce the extent of the curve, there is a direct correlation between brace wear and overall effectiveness. Our goal is for your child to wear the brace 24 hours a day, only removing it for hygiene and extracurricular activities.
Braces are created specifically for your child using measurements we take and are usually delivered in less than six weeks.
Braces, for the most part, can be hidden by normal clothing.
Our team will take an X-ray while your child is wearing the scoliosis brace to evaluate its effectiveness. A brace should reduce the curve about 50% for the most successful outcome.
Bracing is generally not considered effective in curves of more than 40 degrees. Surgery should be considered for curves of 40-50 degrees, as curves around 50 degrees have a risk of progression over a lifetime even after skeletal maturation.
Schroth Method
The Schroth Method is a physical therapy treatment that uses a 3D approach to address the spinal changes that have occurred in all directions. Physical therapy works to help you become more aware of and in control of your posture, and is meant to supplement and aid the success of brace wear. MU Health Care has Schroth-certified physical therapists who can work closely with you to create a treatment plan that best meets your specific needs.
The Schroth Method has been shown to significantly benefit those with scoliosis with a 10–25-degree curve who want to begin treatment but may not be appropriate for bracing, or those with curves greater than 25 degrees who want the best results from their brace wear. Patients are also eligible for Schroth therapy if they've undergone VBT surgery and want to continue scoliosis-specific strengthening.
Surgery
Surgery is usually recommended for curvatures of more than 40 degrees. At MU Health Care, we offer fusion and fusionless surgery options.
Fusion surgery
Spinal fusion connects two or more adjacent vertebrae so they grow together and form a bone that is no longer curved. Rods, screws, hooks and/or wires are placed in the spine to achieve curvature correction. Spinal fusion surgery has a long-term record of being safe and effective for treating significant scoliosis. A risk to the procedure is that fused vertebrae may lose mobility, which can limit some of the back's bending and twisting depending on the levels fused. Fusion of the thoracic spine helps maintain flexibility, as most bending is done with the lumbar spine and hips.
Fusionless surgery
VBT is a minimally invasive surgical procedure that can markedly correct scoliosis at the time of surgery and eliminate the need for spinal fusion. VBT is often a one-time procedure that is less limiting to your child's range of motion and flexibility compared to other surgical treatments.
ApiFix is often a one-time, minimally invasive surgical procedure offered as an alternative to spinal fusion. It is an FDA-approved treatment that uses three anchor points on the spine connected to a self-adjusting rod that expands as the spine grows and corrects.
Scoliosis mentoring program
The pediatric orthopaedics scoliosis mentoring program helps connect families to provide support and share experiences.
The program provides an opportunity for those who have completed the scoliosis journey to support others who are about to begin. We hope this gets patients back to feeling like themselves after surgery.
We will share contact information of a patient who has agreed to be a mentor. You may contact them before surgery with any questions you have about their experience.
Benefits of the mentor program
Benefits of participating in the pediatric orthopaedics scoliosis mentoring program include:
Mentors can build leadership skills.
Mentors and mentees can form friendships.
Mentees can help reduce any anxiety they may be feeling by learning more about the scoliosis treatment process.
Mentors can provide support to others in a similar situation.
Mentors have the opportunity to share their experiences.
Common questions for your mentor family
Here are some questions you may want to ask your mentor family when you first meet with them:
Can my parents stay with me the whole time at the hospital?
Do you have tips on how my family can help me through this process?
How did you feel after your surgery? What made the pain better or worse?
What did you bring to the hospital to help you during your stay?
When were you able to return to your normal activities?
When were you able to start playing sports again?
Related Conditions & Treatments