When your child is experiencing health problems related to their ears, nose, throat, head or neck, it can affect their entire life. Children's Hospital offers the only pediatric ENT (ear, nose and throat) clinic in mid-Missouri.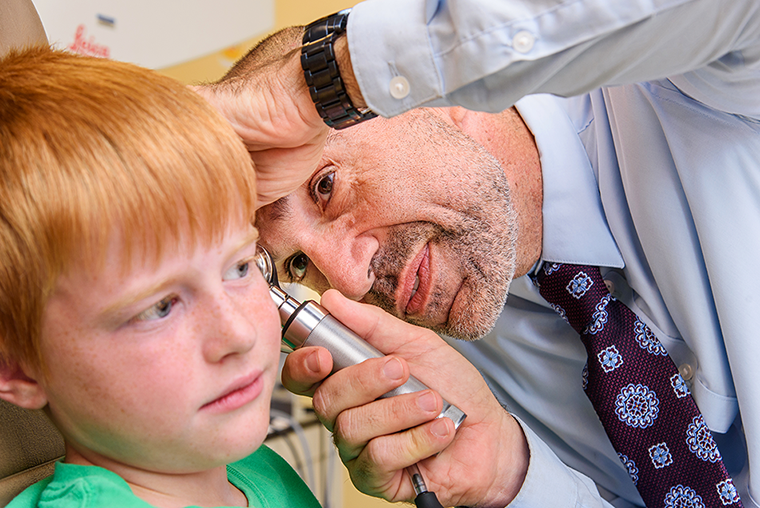 Experts in our ENT clinic provide comprehensive, compassionate care to your child, while keeping you and your family educated along the way. Our highly experienced pediatric specialists offer leading-edge medical expertise and care for a variety of disorders affecting the head and neck.
Specialized pediatric health care second to none
Dr. Eliav Gov-Ari is a specially trained pediatric otolaryngologist and is the only ENT surgeon who is a member of the American academy of pediatrics in mid-Missouri. He leads the MU Children's Hospital's pediatric ENT team, a group of highly trained pediatric experts that includes:
A dedicated nurse practitioner
Audiologists
Speech therapists
Nurses
Social workers
Dr. Gov-Ari also leads the aero-digestive team, a unique team dealing with complex pediatric swallowing and breathing disorders. Dr. Gov-Ari's team, as a part of MU Children's Hospital, has access to and work relationships with some of the very best surgical and medical sub-specialists throughout Missouri and beyond. Dr. Gov-Ari performs more than 700 pediatric surgeries per year and has more than 10 years of experience in the field.
Why choose a pediatric ENT doctor?
There are many reasons children benefit from seeing a health care expert trained specifically to care for children. It takes a team with the skill, knowledge, focus, experience and specialized training in pediatrics to offer the most effective care for your child.
Physical and psychological health needs of children
Children are not tiny adults. They are still growing and developing, so they respond differently to certain illnesses and health problems than adults would. Kids are also physiologically different than adults and communicate differently than adults. Our team takes special care to answer kids' questions and help them feel at ease.
Pediatric ENT disorders we treat
Our ear, nose and throat experts can treat your child for the following conditions:
Sinus disease and surgery, nasal disorders, allergy and allergy testing
Hearing loss, ear infections and ear surgery (ear tubes, eardrum repair, cholesteatoma surgery)
Airway obstructions, noisy breathing, surgical repair laryngomalacia (floppy voice box).
Swallowing disorders (specialized aerodigestive team, laryngeal cleft repair, aspiration clinic)
Balance disorders
Head and neck masses
Voice and speech disorders
Acid-reflux related issues, chronic cough
Snoring, restless sleep and sleep apnea disorders (tonsils and adenoid surgery, and other sleep related surgical procedures)
Laryngeal and tracheal anomalies (laryngomalacia, tracheomalacia , subglottic and tracheal stenosis)
Infant feeding issues, tongue tie, lip tie and breast feeding specialty
Facial and neck trauma (bites, lacerations, fractures)
Drooling and bad breath
Tracheostomy
Leading-Edge Medicine
MU Children's Hospital partners with the University of Missouri's School of Medicine, making it one of the premiere medical research institution in mid-Missouri. Our pediatric otolaryngology team often participates in research studies on the forefront of pediatric medicine. We are a member of the American Academy of Pediatrics, American Society of Pediatric Otolaryngology, American Academy of Otolaryngology – Head and Neck Surgery Pediatric Committee, and the mid-Eastern Consortium of Pediatric Otolaryngology.
Related Conditions & Treatments