Vertebral body tethering (VBT) is a pioneering, FDA-approved fusionless scoliosis treatment for adolescent idiopathic scoliosis.
How VBT works
The surgical treatment uses an anterior approach to install anchors, screws and a tether in the vertebral body along the convexity of the scoliosis curve. VBT corrects the existing deformity in children with growth remaining by slowing growth on the convexity of the curve with compression and promotes growth on the curve's concavity with tension.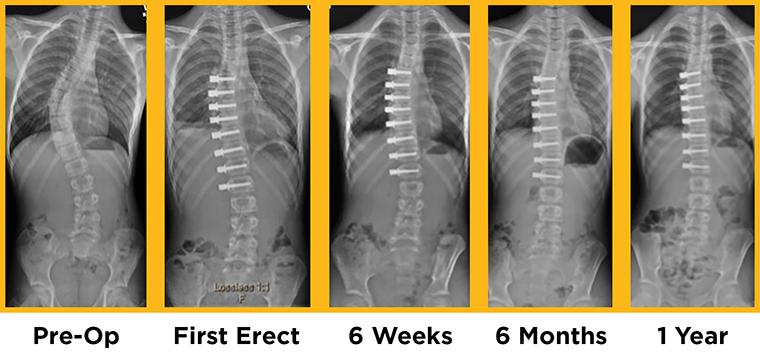 VBT is different from other approaches to treating idiopathic scoliosis. Unlike bracing, it is a surgical approach that provides internal structural correction, modulating spine growth in patients who exhibit deformity progression despite bracing. And unlike posterior spinal fusion (PSF), which fuses vertebrae together, VBT does not alter skeletal anatomy, which can mean better preservation of future spinal mobility in patients who wish to return to sports.

Patient benefits and risks
The primary benefits of VBT include:
Preservation of spinal flexibility and skeletal anatomy.
A more rapid recovery time and less invasive instrumentation compared to PSF.
For most, a clearance to return to normal activity three months following surgery, compared to six months of recovery with PSF.
Because VBT requires future growth, it is also offered earlier than spinal fusion. PSF most often occurs after a child's growth spurt.
The main risks of VBT surgery include:
Results that are not as predictable as PSF, and VBT patients may eventually need PSF.
Potential overcorrection of the scoliosis curve, which can be corrected with an additional surgery to adjust the tether.
Tether failure, such as a break. In many cases, tether failure does not require a revision procedure because failure occurred after curve correction was achieved.
VBT is not available to every patient because it has narrower indications when compared to bracing or PSF. Patients must have approximately two years of future growth left and must have flexibility in their curve.
Patient eligibility
Candidates with indications for VBT:
Are between the ages of 8 and 16
Have a Cobb angle between 35 and 65 degrees
Have flexible curves less than 30 degrees
Have thoracic or upper lumbar adolescent idiopathic scoliosis curves between T5 and L4.
The timing of performing VBT is determined based on patient-specific factors, and a bone age assessment is used to predict future growth for each patient. Patients that exhibit immature skeletal phenotypes, represented by a Sanders Stage of 2-4, are ideal because this timeframe correlates with the beginning of the adolescent growth spurt and approximately two years of rapid growth is required to achieve optimal scoliosis correction.
This window of time often overlaps with patients who are bracing and will close quickly if not monitored by a specialist who performs VBT. This is why it's important to consider a patient's risk of deformity progression.
Predicting scoliosis progression
To evaluate approximate risk of scoliosis progression in girls, you can use the progression chart created by Kevin Neal, MD. Find the patient's Sanders Score, then find their corresponding Cobb angle to approximate the risk of a specific final Cobb angle. For patients who fall into the red, orange and yellow categories, a VBT consultation is recommended. However, any patient at Sanders Stage 6 and below can benefit from consulting an orthopaedic surgery specialist.
Postoperative expectations
Return to sports following VBT is significantly higher than post-PSF, particularly when instrumented in the lumbar spine.
Patients who receive PSF treatment down to L1 are also likely to return to sports, but the impact on postoperative flexibility decreases the likelihood they return to sports with each distal level instrumented below L1.
Case reviews found VBT patients retain more degrees of lumbar motion when bending forward than PSF patients, regardless of distal instrumentation level, at both six months and two years postoperatively. VBT patients averaged less than five degrees of forward flexion lumbar motion loss at six months across L1, L2, L3 and L4 instrumentations, while PSF patients below L1 saw an average of at least 15 degrees of motion loss, including 35 degrees on average at L4.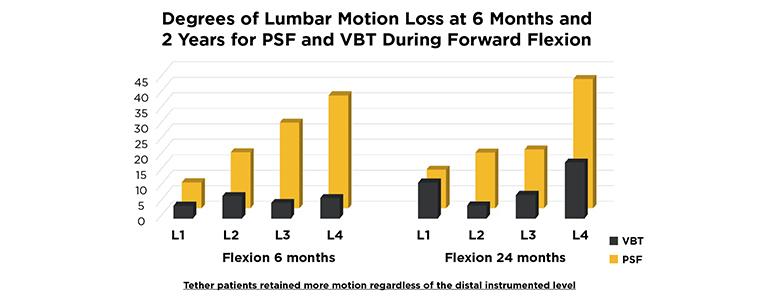 How to refer a patient
To refer a patient, please call 573-884-6132.
Meet the doctor
Daniel Hoernschemeyer, MD is a board-certified pediatric orthopaedic specialist, chief of pediatric orthopaedic surgery and member of the Pediatric Orthopaedic Society of North America. As a pioneer in VBT procedures, Dr. Hoernschemeyer has performed VBT surgeries on patients from 19 different states over the past 10 years and is actively teaching the next generation of pediatric spine physicians.
Additional resources