Columbia Girl Infection Free After Bladder Surgery
---
Stessie and Brian Millner spent their first Christmas as parents at MU Health Care's Children's Hospital.
Their 7-week-old daughter, Everly, had a high fever and was diagnosed with a urinary tract infection (UTI) for the second time in her young life.
"We thought her first UTI was a random occurrence," Stessie said. "But after the second one, we knew it wasn't a fluke."
The Columbia family learned it needed to see a pediatric urology specialist. At the time, the nearest doctor was located in St. Louis, and he had a waiting list of several months. Everly was prescribed antibiotics in an attempt to keep the infections at bay while they waited.

"Everly took antibiotics every single day, but we still had to visit our pediatrician once or twice a month because of high fevers and UTIs," Stessie said. "She wasn't sleeping well, and it was always a struggle to give her the antibiotics. They would make her throw up, which made us worried that she wasn't getting the dosage she should be getting. It was an emotionally draining and sometimes terrifying experience."
When the Millners finally visited the specialist, he told them Everly would likely require surgery to correct the issue that was causing her chronic infections. However, he recommended they wait until she was older, as this would make the procedure easier and less risky.
"We were definitely relieved to have a treatment plan in place that would potentially fix Everly's UTIs," Stessie said. "But we were still really worried about how the infections and antibiotics could be affecting her body and what the future might hold for her."
A New Doctor in Town
A few months later, MU Health Care hired pediatric urologist Elizabeth Malm-Buatsi, MD. This was a game-changer for the Millners, giving them access to the specialty care they needed much closer to home.
"The doctor in St. Louis encouraged us to transfer Everly's care to Dr. Malm-Buatsi because of her stellar reputation," Stessie said. "We instantly fell in love with her at our first appointment. She was so kind and so intelligent. It was obvious that we were in good hands."
Malm-Buatsi reviewed Everly's medical history, looked at scans taken by other doctors and also ran a few tests of her own. She ultimately diagnosed Everly with bladder reflux, meaning some of her urine was leaking toward her kidneys rather than exiting her body. This was causing the chronic infections, and it could eventually lead to kidney failure.
The timeline of the treatment plan remained the same: Everly would need to grow a bit more before undergoing bladder surgery.
"We were happy to have some answers, but we were also very scared about the damage being done to our daughter's kidneys," Stessie said. "We were drained. Everly still wasn't sleeping well, and we had to take her to the doctor a few times every month because she kept getting infections and high fevers. It was taking up a lot of our lives."
Patience Pays Off
Everly's surgery — a ureteral reimplantation — was scheduled for March 2015. By then, she would be 16 months old.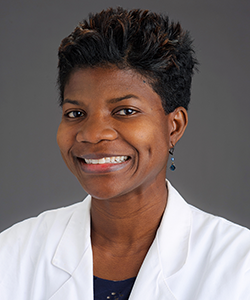 "The ureters are what carry urine from the kidneys to the bladder, and they are supposed to be a one-way street," Malm-Buatsi said. "In Everly's case, once the urine made it to her bladder, some would seep back up into her ureters and flow back toward her kidneys. We were confident that we could stop the leakage by reimplanting her ureters."
Stessie and Brian sat anxiously in the waiting room as Malm-Buatsi performed the four-hour surgery. After Everly was given general anesthesia, Malm-Buatsi placed a small telescope into her bladder to take a closer look at how it's functioning. Then, she made an incision in Everly's lower abdomen, located her bladder, removed the ureters from their existing location and reinserted them through new holes.
"All of the sudden, the phone rang and a nurse told us that the doctor wanted to speak with us," Stessie said. "My heart dropped. I did not think this was a good sign. But fortunately, Dr. Malm-Buatsi told us that everything went great, and she was just spending a little extra time with Everly to make sure she was comfortable as she woke up from surgery. She just takes so much pride in her work."
Life After Surgery
The next day, Everly's appetite returned, she did not appear to be in pain and, most important, her ureters and bladder seemed to be doing their jobs. Malm-Buatsi allowed the Millners to return home.  
"We never looked back after the surgery," Stessie said. "Everly was back to running around and being a kid again after a few days, and — knock on wood — she has not had a single UTI since the surgery."
Now 5 years old, Everly sees Malm-Buatsi every year for follow-up visits to ensure her kidneys are developing properly. Aside from a faint scar beneath her bellybutton, there is no sign she had bladder surgery. She is living an infection-free life with no limitations. When she grows up, she wants to be either a doctor or a "professional hair curler."
"Everly loves to dance, do yoga and play sports," Stessie said. "She also looks forward to spending time with Dr. Malm-Buatsi. I don't know any other kids who look forward to seeing their doctor. We are so lucky to have this caliber of a pediatric urologist in Columbia."
---