Everette Wood has a passion for farming, personally and professionally. He grew up on a farm in Carrollton, Missouri, and worked for the U.S. Department of Agriculture. Now retired, the Sedalia, Missouri, resident enjoys management and improvement of his family farm and seeing his sons and grandsons take an interest in agriculture. 
"I was doing a little bit of work with tractors and things, and since I've been sick, I haven't done much of that," Wood said. "Watching the farm and observing what's going on in and driving around and seeing things on the farm is interesting to me."
Wood had to curtail his farm work last summer, when he began having trouble urinating. It got so bad that he ended up at MU Health Care's emergency department for an evaluation.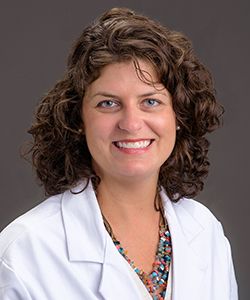 Urologist Katie Murray, DO, who previously treated Wood for kidney cancer, diagnosed Wood with an enlarged prostate. Wood took medications for the condition for four weeks until it was clear they weren't working. Wood relied on a catheter to urinate.
"When medications fail, patients are referred to a urologist to discuss the next treatment options, which are often surgical — the gold standard being a transurethral resection of the prostate or TURP," Murray said. "In select patients, other modalities are reasonable, such as a prostate embolization."
The TURP procedure cuts away extra prostate tissue that blocks the urinary path, which would have allowed Wood to return to his normal lifestyle. However, this procedure comes with its own risks. Wood chose to proceed with a newer procedure called prostate artery embolization.
"My prostate was so large that Dr. Murray couldn't do the normal TURP procedure," Wood said. "She said that MU Health Care was doing this new procedure where they're running a catheter down your artery into the prostate and actually stopping the blood flow to the prostate." 
Physicians at MU Health Care are able to embolize the prostate, which means finding the arteries that feed the prostate and blocking them — kind of like giving your prostate a heart attack.
Recently approved by the U.S. Food and Drug Administration, the procedure is minimally invasive and allows patients to go home the same day in most cases. Physicians insert a catheter through the groin or the left wrist and thread it to the pelvis. From there, small particles are injected to obstruct blood flow to the prostate. That ultimately shrinks the size of the organ. 
Patients will see improvement in quality of life in as little as six weeks. Eventually the particles are absorbed by the body, but in the meantime, the excess prostate tissue continues to shrink. 
"I was at the point where if this procedure hadn't worked, I was going to have some major surgery where they went in and took the prostate out," Wood said. 
An enlarged prostate is a common diagnosis. Most men over the age of 50 have a prostate that's grown over normal size. As men age, the prostate continues to grow, often causing problems. Murray said men who have trouble urinating, don't feel they have emptied their bladder completely, feel the sudden urge to urinate or get up multiple times at night to urinate should discuss these symptoms with their primary care physician or urologist.  
"This is the first time in mid-Missouri that we have physicians with specialized training and experience with prostatic embolization," Murray said. "This is another option urologists can now offer their patients with enlarged prostate."
Within weeks after his procedure, Wood felt better and was looking forward to returning to farm life. 
"I'm back to feeling like a normal person again," Wood said. "It's been a great procedure, and it's worked out really well. I'm getting better each day."