Paul Siron was living a full life. He enjoyed family time with his wife and daughters after work at his construction job. The Higginsville, Missouri, resident liked to play the guitar and take care of the family's pets, a collection that includes a 60-pound tortoise named Anthony and a macaw named Kitty. In 2013, his routine was shattered when he began having debilitating headaches.
"Almost every day, I'd get an intense headache, which was like boom, boom, boom," said Siron, who is now 43. "It was like in the movies when you see someone curled up in a ball, clutching their head and whimpering in pain."
His wife convinced him to see his primary care doctor, who diagnosed him with high blood pressure and prescribed medications. At one time, Siron was taking nine different medications. Nothing seemed to work. 
Siron was referred to Arun Kumar, MD, a cardiologist at University of Missouri Health Care. Kumar ran additional tests based on Siron's symptoms — headaches, anxiety, unexplained high blood pressure — and referred him to urologist Naveen Pokala, MD. He diagnosed Siron with a noncancerous adrenal gland tumor.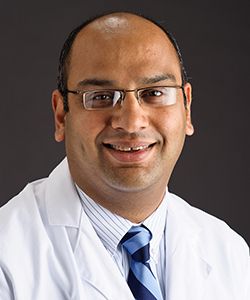 "Paul's was a classic case, but it is very rare," Pokala said. "He actually lost his job because people weren't sure why he was having symptoms and thought they were made up."
Around 1,000 people per year in the United States are diagnosed with the disease. Siron's tumor was 1½ inches long — larger than the adrenal gland itself. Responsible for producing adrenaline, a hormone that maintains your blood pressure, the adrenal gland sits on top of the kidneys. It's often hard to diagnosis if a tumor is there, and doctors aren't sure what causes them.
"I couldn't go to work," Siron said. "I couldn't be outside if the temperature was too hot or too cold. I became a housewife, sitting at home and cleaning on my own time."
Pokala had the right option to remove Siron's tumor and adrenal gland: robotic surgery. Robotic surgery allows doctors to control the surgical instruments with mechanical arms while looking at a monitor in the operating room. This minimally invasive technique is used in many different surgeries and provides patients with a good outcome, less pain, less blood loss and a faster recovery. 
"You really have to perform a no-touch technique so that you don't press too hard on the adrenal gland," Pokala said. "If you press too hard, you have adrenaline flow into the bloodstream, raising blood pressure during surgery. With robotic surgery, the movements are so fine, you can actually perform the procedure really well without causing too much blood pressure changes."
Pokala made four small incisions in Siron's stomach to remove the tumor and his left adrenal gland. 
"It was super easy," Siron said. "Dr. Pokala just yanked it out like it was no big deal. I could have gone home the next day, but he and my wife wanted to make sure my blood pressure continued to be normal."
Pokala said high blood pressure is unlikely to be a primary diagnosis for people in their 30s. He looked for a secondary cause of high blood pressure by performing additional tests. One of the advantages of an academic health system is that patients have multiple specialists reviewing their cases. 
"Removing an adrenal tumor with robotic surgery should only be done by experienced physicians who has done a lot of them," Pokala said. "We have that here at MU Health Care and a multispecialty team in place to deliver good results." 
Three years after his symptoms started, Siron quit taking all his medications and returned to work after his successful surgery.
"Before, I was like an elderly person," Siron said. "People would pass me in Walmart, look at me and shake their heads. I feel like a superhero now."