In 2015, Kathleen Rosas enjoyed spending her days babysitting her grandchildren. But the Lebanon resident began to notice something was slowing her down.
"A mild pain — like a cramp — in my side kept happening every day," Rosas said. "I would take Tylenol, and the pain would go away, but it wasn't until my husband told me I'd lost weight without trying that I became worried."
Rosas watched her mother pass away from pancreatic cancer, and the main symptom she remembered was weight loss. At her husband's request, she went to the emergency department at Mercy Hospital Lebanon. She learned she had renal cell carcinoma. It was an advanced stage of kidney cancer accompanied by a thrombus — a blood clot that could break off and carry cancer cells from her kidney to her heart and lungs. Rosas needed treatment quickly.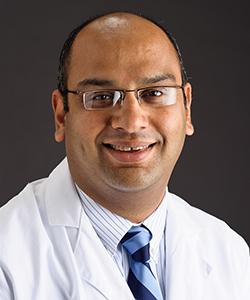 She was referred to urologic oncologist Naveen Pokala, MD, at MU Health Care's Ellis Fischel Cancer Center.
"Only 4% to 8% of all kidney cancers have this thrombus," Pokala said. "The worry is that if the thrombus — the cancerous blood clot — breaks off into the vein, it could get into a patient's lungs and cause sudden death. If these patients aren't treated, they typically don't live beyond a year."
Rosas is a Jehovah's Witness, and she asked Pokala to perform the surgery without any blood transfusions because of her religious beliefs. Pokala suggested robotic surgery rather than traditional surgery, because it involves smaller incisions and therefore less blood loss. He was breaking new ground by offering Rosas this option — only a handful of doctors had performed the procedure using a surgical robot.
Before surgery, Pokala took a medication called erythropoietin to increase her blood volume to help her avoid a transfusion. During the 11-hour procedure, Pokala removed the cancer, the inferior vena cava (IVC) tumor thrombus and her right kidney.
"At MU Health Care, we've now done 10 robotic IVC thrombectomies since we first started doing them in 2015," Pokala said. "Kathleen was the first Jehovah's Witness patient who had it done here. At that time, there were maybe only 30 or 40 patients in the world who had undergone robotic IVC thrombectomies, which most often require blood transfusions." Robotic surgery also helped Rosas recover more quickly, with less pain and a lower risk of infection. Rosas was only in the hospital a few days after her operation and went back to living her normal life within a few months.
Ellis Fischel patients all have access to a team of specialists. Pokala received special training in robotic surgery. In the operating room, Pokala has other experts, such as vascular and gastroenterologist surgeons, on standby. Those experts can give him a second opinion during the operation.
"He was just the most loving doctor," Sara Langendorfer, one of Rosas' four children, said of Pokala. "He viewed us as family even though he hadn't known my mom beforehand. From day one, just the way he treated us, you could tell he really cared about everything. We just have nothing but good things to say about Ellis Fischel."
Now back to babysitting her grandchildren, Rosas is full of life.
"Her energy now is as good as it ever was," Langendorfer said. "She can play with her grandkids and is able to enjoy being with them again."