When Katie Murray, DO, meets a new patient, she expects to make an unforgettable first impression. There is no worse conversation starter than the one she often has to offer. But she also knows a great long-term relationship is waiting to happen.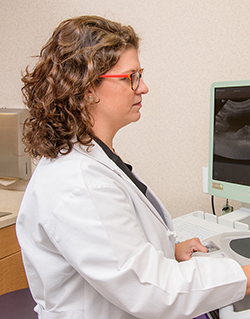 "The first time you meet me, we're going to talk and ask questions back and forth, and you are probably not going to like what I have to tell you," she said. "I'm going to give you all this bad news. But, a few years from now, this is all going to be behind you, and you're going to be seeing me every three to six months. Instead of our whole conversation being focused around cancer, we'll spend a small amount of our clinic time talking about cancer — with me hopefully giving you good news — and then you're going to be telling me where you went on vacation this summer and about your grandkid's basketball game."
Murray grew up in Farmington, Missouri, thinking she would become a family physician and return to her hometown, where she would treat friends and neighbors for generations. Her father, who owned a trucking company and was never off the clock, instilled in her a tireless work ethic. Her mother, who examined every homework assignment to make sure her daughter was always giving her best, honed her competitiveness.
In medical school, Murray veered from family medicine to urology. Then she went about as far from Farmington as possible — at least in terms of lifestyle — when she completed her fellowship at the internationally renowned Memorial Sloan-Kettering Cancer Center in New York.
With that specialized surgical training, Murray could have written her ticket to any number of hospitals as a urologic oncologist. She wanted to go someplace where, even as a specialist, she could cultivate patient relationships like a hometown doctor. She wanted the chance to conduct research that directly improved the lives of her patients.
Murray found the perfect fit at University of Missouri Health Care, an academic health system where doctors treat patients and are also mentors, teachers and researchers.
MU Health Care has the resources to help young academic physicians, such as Murray, to learn about grant-writing to fund their research, as well as helping them learn the skills to mentor and teach Missouri's next generation of physicians.
Clinically, Murray treats patients facing cancers of the urologic system. She has focused her research on bladder cancer. More accurately, she has focused her research on people with bladder cancer.
"She is interested in functional status, meaning the ability of a person to do basic tasks of daily living — things like bathing and dressing," said David Mehr, MD, one of MU's experts in geriatrics and outcomes-based research. "That's hardly been explored at all in urology. People can be better informed and make the right choices."
Murray gives her bladder cancer patients pedometers to learn about their activity level before surgery so she can do a post-surgery comparison. She is studying to what degree patients who work with physical therapists, occupational therapists and nutritionists to get into shape before surgery respond better afterward.
"It's all about managing expectations," Murray said. "Ideally, if we were able to predict who is not going to recover well functionally, is there an intervention we can do beforehand to improve their recovery and lifestyle after surgery?"
It goes back to the conversations she has with new patients. Murray's goal is to help them reach the best outcome, so when they meet in the future, they will be able to talk about so much more than cancer.