If you have a rheumatic disease, the rheumatology team at University of Missouri Health Care offers the latest treatments for a wide variety of conditions. We specialize in the treatment and diagnosis of rheumatic diseases such as arthritis, lupus, gout and osteoporosis.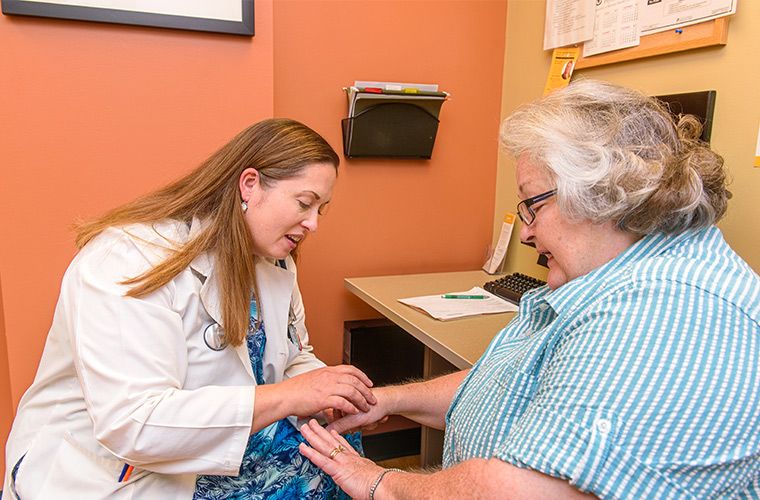 Inflammatory and autoimmune disorders can affect many systems in the body. That's why our doctors partner with other specialists including orthopaedists, dermatologists, nephrologists and physical therapists. We're here to help you improve your quality of life by incorporating the latest, most effective therapies into your care. As an academic medical center, MU Health Care is able to offer advanced treatments that are developed through research and clinical trials.
What is an autoimmune disorder?
The immune system is continually protecting our bodies from our environments. When the immune system misreads signals, it can begin attacking your own body. This can lead to autoimmune disease and arthritis, which often result in swelling of joints, muscles and bones.
Symptoms of autoimmune disorders and rheumatic conditions often overlap or mimic those of other diseases. Because these diseases are hard to diagnose and treat, it's essential to see a rheumatologist experienced in autoimmune rheumatic conditions.
Rheumatology & immunology conditions we treat
Our rheumatologists specialize in the diagnosis and treatment of these diseases:
Gout. This condition is characterized by pain and inflammation when too much uric acid collects and crystalizes in the joints.
Lupus. An inflammatory disease in which the body attacks its own tissue.
Osteoarthritis. Often related to age and "wear and tear," osteoarthritis occurs when the tissue between your bones begins to wear away.
Osteoporosis. This is a condition that causes brittle, weak bones that break easily.
Rheumatoid arthritis. A chronic inflammatory disease that affects the joints.
Vasculitis. This condition causes inflammation in the blood vessels and changes to the blood vessel walls.
Rheumatology treatments we offer
Our specialists offer comprehensive treatments, including:
Assistive devices
Diet
Drug therapy
Joint injections/aspiration
Lifestyle modifications
MU Health Care rheumatology physicians are well-known for their exceptional diagnosis and treatment for diseases that affect the body's musculoskeletal system.