If you have an illness or condition that affects your digestive system, our specialized team of physicians, nurses and researchers can help.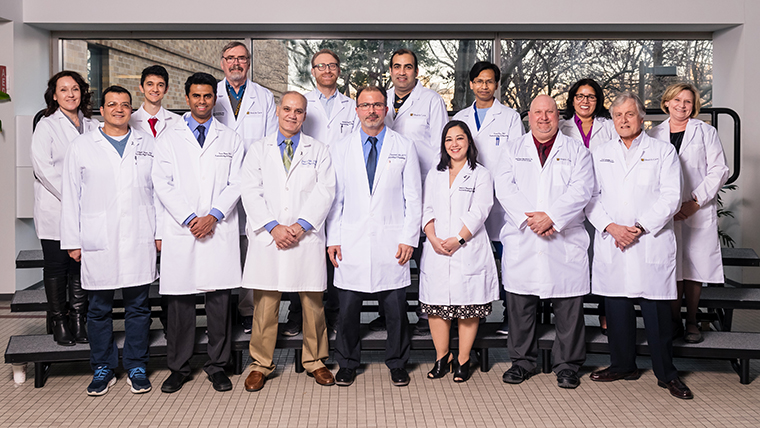 The Missouri Digestive Health Center uses the latest, state-of-the-art technology to provide an accurate diagnosis and effective treatment for conditions affecting the esophagus, stomach, small intestine, colon, liver, pancreas and gallbladder. And our Endoscopy unit is the only unit in mid-Missouri to be recognized by the American Society for Gastrointestinal Endoscopy (ASGE) for quality and safety of endoscopy care.
Conditions we treat
We treat issues within the gastrointestinal tract, including but not limited to:
Swallowing problems. These are conditions that affect your ability to swallow.
Heartburn. This is a feeling of burning and discomfort in your heart or upper abdomen from reflux of stomach acid.
Gastroparesis. A condition where the stomach does not work as well as it should, which results in bloating, discomfort, nausea and vomiting.
Irritable bowel syndrome. A very common condition that causes recurring abdominal pain and alternating diarrhea and constipation. This condition is due to abnormal movement in the intestines and increase in the sensitivity of the nerves of the intestines.
Celiac disease. This condition is an allergy to gluten, a protein that is a common food additive that results in an autoimmune or inflammatory response in the small intestine.
Fatty liver disease. This is a common condition that may cause liver damage and scarring.
Hepatitis C. This is a virus infection that cause damages to the liver, scarring and possible cancer.
Cirrhosis. This is a serious condition which happens as a result of excessive scarring of the liver and may progress to cancer.
Food intolerances. This means your body does not tolerate one or more types of food. 
Pancreatitis. This is a condition in which the pancreas becomes inflamed and damaged.
Gallbladder and biliary disease. This is any disorder that affects the gallbladder or bile duct and includes gallstones.
Inflammatory bowel disease. These are conditions that cause inflammation inside your intestines, such as ulcerative colitis and Crohn's disease.
Chronic diarrhea or constipation. These are conditions of altered small intestine and colon movement.
Services we offer
Some of the services we provide include:
Colorectal cancer screening. We provide screenings, surveillances, treatment and prevention services for colon cancer, including colonoscopies. Our team collaborates with a specialized geneticist for diagnosis of hereditary gastrointestinal (GI) cancers.
Inflammatory Bowel Disease (IBD) service. Our dedicated and specialized gastroenterologists and nurse practitioner provide early diagnosis and treatment of inflammatory bowel disease, such as ulcerative colitis and Crohn's disease.
Advanced and therapeutic endoscopy. These are advanced, minimally invasive, endoscopic procedures performed by highly skilled physicians who specialize in treating a variety of disorders, such as the following:

Treatment of early GI cancers that are limited to the superficial lining of GI tract using endoscopic mucosal and submucosal dissection
Endoscopic ablation of premalignant condition that affects the esophagus, such as Barrett's esophagus
Endoscopic staging of GI and biliary cancers using endoscopic ultrasound, EUS-guided fine needle aspiration and biopsy
Diagnosis and treatment of chronic pancreatitis and drainage of pancreatic fluid collection
Endoscopic therapy of bile duct stones using endoscopic retrograde cholangiopancreaticography (ERCP) and direct visualization of bile duct using cholangioscopy
Endoscopic assessment of pancreatic cysts and pancreatic tumors
Endoscopic therapy of bleeding gastric varices secondary to cirrhosis using Glue therapy
Endoscopic assessment of fecal incontinence using rectal ultrasound
Endoscopic therapy of bleeding internal hemorrhoids
Endoscopic therapy to assist in weight loss such as intragastric balloon placement and reduction of surgical stoma
Endoscopic therapy to assist in nutrition, such as percutaneous endoscopic gastrostomy and jejunostomy
Endoscopic diagnosis and treatment of obscure GI bleed and anemia using single balloon enteroscopy

Liver service. Our liver team consists of specially trained physicians in conjunction with liver coordinators and a patient medication liaison. We provide diagnosis and treatment for a variety of acute and chronic liver diseases, such as hepatitis C, hepatitis B and other liver disorders. Our team will assist in obtaining medication for treatment of these conditions. We provide screening and surveillance for liver cancer and noninvasive testing for liver scarring, such as liver elastography.
GI motility disorders service. We provide esophageal manometry, pH and impedance testing for acid reflux and swallowing problems.
Nutritional services. Our team diagnoses and treats a variety of food-related disorders including Celiac disease, inflammatory bowel disease and malnutrition. We place and care for feeding tubes.