On most days, you can find Bernard "Butch" Thurman at his family farm near Montgomery City, Missouri, tending to his dog, Sassy, and working the land. Thurman, who is retired, likes to spend time mowing his grass, visiting with his brother and hunting deer, turkey, squirrels and rabbits. 
Passed down from his parents, the farm has been in the family since the 1940s. Just like his family, it's something he prizes. 
In 2016, his routine was shattered. Thurman began having severe abdominal pain every few weeks that landed him in the emergency room each time. 
"I was sitting in the swing on the farm, and it just hit me," Thurman said. "I couldn't hardly move. The pain just took my breath away. It was terrible."
Thurman suffered three of these attacks from pancreatitis, a condition in which the pancreas becomes inflamed. The pancreas is an organ that sits behind the stomach and it plays a critical role in digestion and regulating blood sugar levels. After the third attack, Thurman's family doctor ordered X-rays and discovered he had Stage 2 pancreatic cancer.
"It was heartbreaking," Thurman said. "The cancer was about the size of my little finger. I knew I had to keep on going and wasn't going to give up."
Thurman was referred to University of Missouri Health Care's Ellis Fischel Cancer Center. Surgical oncologist Kevin Staveley-O'Carroll, MD, PhD, led Thurman's treatment.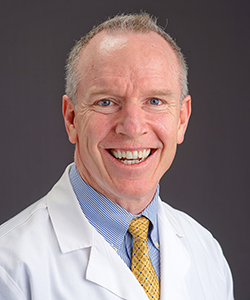 "The beauty of working in a place like Ellis Fischel is the teamwork that's involved," said Staveley-O'Carroll. "All of our patients are evaluated by the entire team of doctors. We've got different disciplines in cancer therapy that all have effectiveness, but it's only through combining them appropriately that we really give the patient the best chance of cure."
Thurman's team also included surgical oncologist, Eric Kimchi, MD, as well as medical oncologist Puja Nistala, MD. Thurman's treatment team decided the best course was surgery — to remove the cancerous cells — and chemotherapy. 
Staveley-O'Carroll began by removing the middle and tail of the pancreas and the spleen. As he was finishing the procedure, the pathology report showed some cancer cells might have spread to the rest of the pancreas. Staveley-O'Carroll and the surgical team approached Thurman's family to explain the problem. With the family's blessing, they returned to the operating room and performed a Whipple procedure, a complex technique that removed the remaining pancreas, the gallbladder, bile duct and a portion of the small intestine known as the duodenum. Staveley-O'Carroll then reattached the small intestine to the stomach and bile duct, so Thurman could digest food. Because his entire pancreas was removed, Mr. Thurman now depends on insulin and dietary enzymes to replace the removed organ's function.
After the long and complex surgery, Thurman was up and walking the next day. He left MU Health Care four days later to recover at home before beginning chemotherapy. Thurman is considered in remission. He is eating well, and his blood sugars are well controlled.
He beat the odds.
"When someone has pancreas cancer and it's completely removed, the chances for being cured are about two in 10," Staveley-O'Carroll said. "It's a particularly difficult cancer, with data showing it metastasizes very early, sometimes without symptoms."
Thurman is a former smoker, which increased his risk for the disease. Although there aren't any reliable screenings or biomarkers to predict pancreatic cancer, Staveley-O'Carroll said there are some warning signs his team follows closely, such as pancreatic cysts, which can be found during imaging tests for other problems. If doctors can identify these cysts, they can remove them before they turn into cancer. Other presentations that should arouse suspicion are jaundice, unexplained pancreatitis, as Thurman had, or new onset of diabetes with unexplained weight loss.
Staveley-O'Carroll said that in the past, 70% of patients diagnosed with pancreatic cancer didn't seek treatment because of the aggressiveness and high mortality rate of the disease. Pancreatic cancer care has been revolutionized in the past few decades because of surgeons such as Staveley-O'Carroll, Kimchi and Richard Smith, MD, who all specialize in pancreatic surgery and the development of new treatments. As physician-researchers at an academic health system, Staveley-O'Carroll and Kimchi are on the forefront of the fight against pancreatic cancer and other gastrointestinal cancers. They are conducting federally funded research to develop an immunotherapy that targets pancreatic cancer and other cancers. 
Being diagnosed with pancreatic cancer was life-changing for Thurman, but he has eased back into his old routines, even deer hunting less than a year after his surgery. Thurman leaned on his faith during his treatment and thanked the members of his church for their kindness and prayers. 
"Thank God for answered prayers and doctors for their knowledge," Thurman said. "Ellis Fischel is mighty good. I'd recommend them to anybody, especially Drs. Staveley-O'Carroll and Kimchi. They wanted to keep an eye on me and take good care of me. That's what stuck out more than anything. They were concerned, and that's worth a lot."