It is Bruce Horwitz's nature to see silver linings. He's a clinical psychologist and an assistant professor of psychiatry at the MU School of Medicine, and he tries to practice what he preaches. That outlook was tested in August 2017 when mild abdominal pain led to a devastating diagnosis.
It's hard to find the silver lining in pancreatic cancer.
"I looked at a lot of research when I was diagnosed, and it just made me feel worse," Horwitz said. "It was very depressing at first."
Now, Horwitz has a different perspective. The genetic testing he received during treatment for his pancreatic cancer alerted him that he might be at risk for other cancers. That prompted him to be tested for prostate cancer. He indeed had an aggressive form of that disease, but because it was discovered early, it was treatable.
So, in a way, pancreatic cancer saved his life. How's that for a silver lining?
Horwitz credits his MU Health Care doctors and his family — especially his wife and fellow psychologist, Ellen Horwitz — for their care and support. But he also knows he's still alive to tell his story because he sought answers to his health problems rather than waiting and hoping. Horwitz hopes his experience reminds men they shouldn't delay screenings or treatment.
"You have to take an active interest in your own health care," he said.
Horwitz's pancreatic cancer was detected early and treated with chemotherapy and surgery at MU Health Care's Ellis Fischel Cancer Center. As part of that treatment, he received genetic testing that revealed he carried the BRCA2 mutation, which increased his risk for other cancers. That information, combined with the knowledge his father had suffered from prostate cancer, prompted him to ask his primary care doctor for a prostate-specific antigen (PSA) test.
A PSA is a blood test that measures the level of a protein produced by the prostate. Horowitz had elevated PSA levels. Some prostate cancers grow so slowly they don't require treatment, but a biopsy confirmed Horwitz had high-risk prostate cancer.
"My previous PSA was probably eight or nine years ago," Horwitz said. "The only reason I had it checked this time was the genetic test. Otherwise, I would have just gone on in blissful ignorance and ironically probably died of metastatic prostate cancer instead of pancreatic cancer."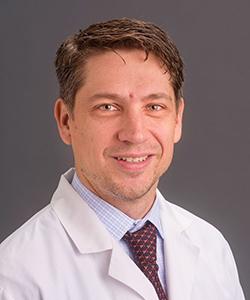 Horwitz met with MU Health Care urologist Stephen Weinstein, MD, and radiation oncologist Gregory Biedermann, MD, who explained two treatment options — surgery to remove the prostate or a combination of radiation and hormonal therapy.
Surgery is a quicker solution, and MU Health Care offers both traditional and robot-assisted prostatectomies. Radiation/hormone therapy takes longer but is a good option for patients who would rather not have surgery or might not tolerate it because of their age or health. The success rates of the two treatments are about the same.
"One misconception is that all prostate cancer patients who receive treatment are going to have significant side effects," Biedermann said. "Surgical techniques are improving, recovery time is getting shorter, incontinence risks are getting less and erectile dysfunction rates are less across the board. Same thing with radiation. Fewer patients are having long-term problems with bladder or rectal side effects. Fifteen years ago, I would tell guys they were likely to have side effects with their bladder and rectum after six- to eight-week radiation treatment programs, and now I see very few who have long-term problems."
Horwitz opted for radiation and hormone therapy. In the fall of 2018, he began eight weeks of external beam radiation and 18 months of androgen-deprivation therapy. He called radiation "a cakewalk" and experienced no side effects. The hormone therapy, which blocks the body's production of tumor-fueling testosterone, caused him to feel extreme fatigue and temporarily develop Type 2 diabetes. Horwitz finished the treatment in February 2020.
Horwitz has regular CT and MRI scans to check for recurrence of pancreatic cancer and PSA tests to monitor for prostate cancer. So far, he's had no signs of either cancer returning. His blood sugar is back to normal, and he is slowly regaining his energy.
Since he was a boy, Horwitz has enjoyed photography. He likes to shoot extreme closeups of small objects, a style known as macro photography.
"When you get close enough, everything is interesting — a feather, a paper clip, a piece of material," Horwitz said. "When you start to look at things at such a close level, you start to see structures and colors and patterns you wouldn't notice in day-to-day life."  
There is beauty in the details. Horwitz appreciates those little things now more than ever. He's expanding his photography skills, trying to get action shots of the fast-moving birds that come to the feeders on his back deck. It's been a difficult three years, but there is still lots of living to do. For that he is grateful.
"I'm very blessed for this not to happen to me until I was almost 70 years old," Horwitz said. "Other people get these kind of problems much earlier in life with much worse outcomes. I count my blessings."