Mark Terry is proud to say he never took a sick day during his career as a maintenance supervisor overseeing timeshares in Branson, Missouri. Terry, who is now retired, is equally committed to his favorite leisure activity: riding his motorcycle all over the Midwest. His health and his ability to enjoy his hobby were derailed in 2018.
"I was having belly pain and trouble urinating," said Terry, a resident of the southwest Missouri town of Taneyville. "I thought it was a kidney stone and ended up at the emergency room. It turned out to be bladder cancer.
"I was in denial. I'd never been sick before, and now — cancer."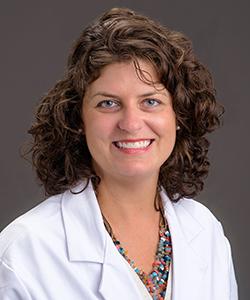 Terry had the tumor removed at CoxHealth in Branson. He was then referred to MU Health Care's Ellis Fischel Cancer Center, where urologic oncologist Katie Murray, DO, suggested he undergo chemotherapy before having his bladder removed.
Terry completed his chemotherapy in Branson in May 2018. He returned to MU Health Care for a day of preoperative and postoperative education, something referred to as the Team InteGrated Enhanced Recovery (TIGER) protocol.
"The goal of TIGER protocol is to give patients realistic expectations for their upcoming surgery and provide time for them to process the information and call us with questions ahead of their surgery," said Kate Muzzey, RN, BSN, the urology nurse navigator.
The TIGER protocol for bladder cancer surgery began at Ellis Fischel in 2017. Since then, Murray has seen readmission rates after surgery fall from 25% — the national average — to just 16%.
"We think the education we're able to provide before surgery and the regular check-ins with patients after surgery are helping us improve the health of our patients," Murray said. "If Kate talks to them several days after leaving the hospital, we can potentially make any necessary improvements or change follow-up plans to improve expectations and care of the patients. This has contributed to our decrease in hospital readmissions after surgery."
Terry appreciated the extra attention and didn't mind the 3½-hour drive for a full day of teaching. "It was a whole day with Kate and the team, who provided very helpful information," Terry said. "I remember meeting with the anesthesiology team, going through physical therapy exercises, learning about the ostomy bag and spending time with the ostomy nurse. I wanted to beat the record of only being in the hospital four days after my surgery. It ended up being five, but I was well-prepared from the initial visit."
Because of the aggressiveness of his cancer, Terry needed to have his bladder removed with a procedure known as a radical cystectomy. Terry now uses an ileal conduit — also known as ostomy bag — that attaches to his abdomen to collect urine in place of a bladder.
"I thought having an ostomy bag would keep me from enjoying the rest of my life," Terry said. "I'm 95% back to normal now and can take long rides on my motorcycle again."
Murray said many patients fear their quality of life will diminish after this type of operation. Ellis Fischel now provides bladder cancer patients with information about all of the potential life changes and teaches patients how to maintain quality of life after surgery. Through the TIGER protocol, patients having an ileal conduit get supplies, including sample bags so they can practice using them before surgery. It's just one example of why the TIGER protocol has been helpful to MU Health Care patients.
"This is a huge opportunity to make patient care the top priority," Muzzey said. "I actually get to see patients from the beginning and follow them throughout their cancer journey. It's a really cool thing to help develop relationships and really get to know our patients. I'm here for them whenever they need me."
Murray said smoking — including secondhand smoke — is the biggest risk factor for bladder cancer, followed by chemical exposures from working in the dye, rubber, leather and aluminum industries. A former smoker, Terry didn't expect his cancer diagnosis but has adopted a realistic outlook for his journey.
"I thought I would beat it, and here I am, cancer-free for now, thanks to Dr. Murray," he said. "I'm finally back on my motorcycle, and I can't praise her and the staff at MU Health Care enough for that."