When family and friends gather to celebrate the holidays, Columbia resident Paul Penn savors the moments more than ever. He already has received the ultimate gift — more time with his loved ones — and he doesn't take it for granted.
In July 2018, Penn was diagnosed with stage 4B anaplastic thyroid cancer — the rarest and most aggressive form of thyroid cancer. The average life expectancy after diagnosis is four to six months. Penn had to decide whether to try treatment at University of Missouri Health Care's Ellis Fischel Cancer Center or let nature takes its course.
"There were two roads in front of me, both leading to the same place, but one road was longer," Penn said. "I wanted to take the longer road, because I could see my grandkids grow up and do other things I wanted to do still."
On Aug. 2, 2018, Penn underwent surgery to remove the tumor and part of his thyroid. Robert Zitsch, MD, a head and neck cancer surgeon, performed the four-hour procedure to remove the 3½-inch tumor to begin Penn's treatment. A few weeks later, he began chemotherapy treatment and radiation treatment guided by medical oncologist Tolga Tuncer, MD, and radiation oncologists Gregory Biedermann, MD, and Steven Westgate, MD. Penn finished both in October 2018 after five dual chemotherapy treatments and 33 radiation sessions.
Next, he needed time to recover. Penn said he relied on his family to take care of him.
"I had side effects of treatments," he said. "My throat felt like I had a sunburn from hell. I no longer had an appetite, and I lost both weight and my hair."
It felt like a long fall and winter, but Penn's choice paid off. He learned the cancer was in remission in January 2019.
"I was overwhelmed with so many emotions at that point," Penn said. "Relief was the main emotion. I was afraid my grandkids wouldn't remember me. Now I get to be there and be part of their lives, and that was important to me."
Not satisfied with temporary success, Tuncer wanted to find a treatment to keep Penn in remission. Using precision medicine to zero in on the exact gene mutation in Penn's tumor, Tuncer used next-generation sequencing — genetic testing that quickly maps DNA — to find a treatment that would more effectively prevent the cancer from returning.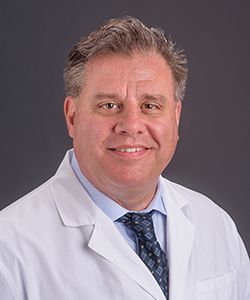 "Typically, we would monitor and only offer treatment when there is progression," Tuncer said. "Instead of waiting for the disease to return, we had his tumor evaluated for mutations that can be targeted. In Paul's case, his tumor had a specific mutation, which while it is more commonly seen in melanoma, we had a targeted medication for this mutation that we could offer to him."
Targeted therapy is a type of precision medicine designed to treat cancer by interrupting a person's unique cell abnormalities that encourage cancer growth.
Thinking of his family and friends, Penn decided the benefits outweighed the risks, which can include heart failure, fatigue, and bleeding and dermatologic complications. He's taken the oral medication once a day since late 2018 to keep his cancer at bay.
"The idea of personalized medicine, or targeted treatments — for example, where the cellular pathway is brought down — is something we're going to be seeing more and more of for our patients," Tuncer said. "We're now trying to understand more and more about tumor mutations to develop one drug to treat all cancers to have a shot at outsmarting cancer."
As part of an academic health center, Ellis Fischel physicians are also researchers and teachers who study the latest treatment options available. Because Penn's cancer was so rare and aggressive, his case was discussed by multiple specialists at Ellis Fischel's weekly tumor board. Tuncer, Biedermann, Zitsch and others crafted a personalized treatment plan.
"The team approach is something that's underappreciated at Ellis Fischel," Tuncer said. "The clinic rooms are right next to the surgeons' area and radiation oncology, which makes it easy to communicate with other physicians and staff about each of our patients."
Penn, who retired from MU Health Care as an operating room anesthesia technician, had seen the team approach to cancer care as an employee, and now he's seen it as a patient. His treatment team gave him more time to spend with his family.
"When we first started this journey, another week was a gift," Penn said. "Now, things are back to normal."
— The precision medicine offered at MU Health Care is part of a bigger initiative called NextGen Precision Health. Our researchers and doctors are working together to better understand diseases and conditions as they relate to an individual's genetics, lifestyle and environment. With that level of understanding, we'll be able to develop treatment and prevention strategies that not only save and improve lives in Missouri, but also share our findings to help others across the globe.