Andrea Greer is a devoted mom to her two children, Jackson and Emily. When her children were younger, Greer and her husband enjoyed traveling with them as they played ice hockey competitively. They even started a family tradition of attending the Frozen Four, men's college ice hockey's national championships. 
Appreciating the time with her family took on a new meaning as hockey season began in the fall of 2013. 
After turning 40, she had scheduled her first mammogram, following the advice of doctors who recommend the procedure at that age. But about a month before her appointment, she felt a lump in her left breast one evening as she was getting ready for bed. 
"It was like a rock underneath my skin that wasn't supposed to be there," Greer said. "I called my doctor the next day and got in to have it checked out."
Within a few hours, she had a mammogram and an ultrasound. The radiologist then requested a biopsy. Greer went home to her family to await the biopsy results. She learned later that week that she had stage 2 invasive ductal carcinoma, the most common form of breast cancer.
"I was very surprised," Greer said. "It really wasn't something that I had at all in my brain. I wasn't in a big hurry to have a mammogram because I just turned 40 and cancer wasn't something that I was concerned with."
Doctors at MU Health Care's Ellis Fischel Cancer Center scheduled her surgery for the Monday before Thanksgiving. Greer, after consultation with doctors and family, chose to have a lumpectomy, a procedure that removes the cancer and saves the remaining breast tissue. She was back to work the week after surgery, but her journey was not over.
Because Greer's surgery confirmed breast cancer was present in at least one lymph node, she was eligible for a clinical trial at Ellis Fischel. When her doctor asked her to participate, Greer didn't hesitate.
"I was lucky enough to be selected as part of a clinical trial, which allowed me to have a little bit different treatment," Greer said. "I was on board to try anything to help me beat the cancer and that would hopefully ensure it wouldn't come back. 
"It was also kind of exciting in a way to know that what they're finding out from patients like me could help other women in the future."
The clinical trial randomly assigned patients to two treatment protocols. One protocol was the standard treatment, while the second was the standard treatment plus a targeted therapy drug — a type of precision medicine — called Herceptin. The drug works by attaching itself to receptors on the surface of breast cancer cells and blocking them from receiving growth signals. With these types of targeted therapies and an understanding of a patient's cancer genetics, doctors can better predict how cancer cells interact with medications, and thus, offer patients more effective treatment options.
Greer was chosen to receive Herceptin for one year in addition to two extra cycles of the traditional chemotherapy. Greer also underwent six weeks of radiation in the summer of 2014 as part of standard treatment. By 2015, Greer was considered in remission. 
"It was a mix of emotions when I learned I was cancer-free," Greer said. "I was excited and relieved at the same time. I just felt so blessed."
Clinical trials are vital to the evolution of medicine and precision health. Each trial helps physician-researchers develop new treatment options for patients. They become personalized approaches to cancer care, evaluating each patient's genetics, lifestyle and environment to offer treatment options faster than before.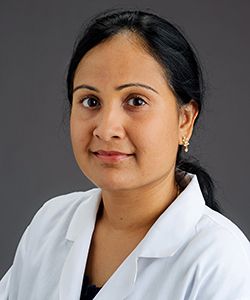 Puja Nistala, MD, medical director of clinical trials at Ellis Fischel and Greer's oncologist, said clinical trials give patients access to leading-edge therapies. Ellis Fischel currently has 30 active trials.
"It's very meaningful to work with these patients as it's a major contribution to medical science and to our community," Nistala said. "Without heroes like Andrea, we wouldn't be able to advance clinical therapies for diseases."
Nistala stressed the safety of patients is the top priority. Drugs used in clinical trials have been approved for use for other diseases or conditions. And trials are not just limited to medications. Clinical trials also evaluate new options for radiation and surgical treatments. 
"Sometimes I have to educate patients," Nistala said. "These aren't experimental drugs. It's a drug that's being used in certain situations. We're now asking the question, 'Is that drug helpful in this other situation?' "
Greer said her care team was always focused on her safety and the goal of remission. 
Clinical trial study coordinators are assigned to every patient identified as possible participant. Oncology nurse Angela Waller, RN, ONC, was Greer's coordinator and helped her through the process, from enrollment and managing side effects to offering support throughout her treatment. Study coordinators follow their patients for life.
"I consider Angela to be a true friend," Greer said. "She was another resource that I had to explain treatment and procedures. I got more information and extra attention than I think I would have otherwise."
Greer overcame her cancer with the support of her family and the team at Ellis Fischel.
"I owe everything to the staff and doctors at Ellis Fischel," Greer said. "Now, it's more about just enjoying the time — being with family and friends, doing what we love, traveling together and creating memories."