The sooner breast cancer is found, the better your chance for recovery. That's why it's so important to get regular screening mammograms. This quick, 10-minute exam could save your life.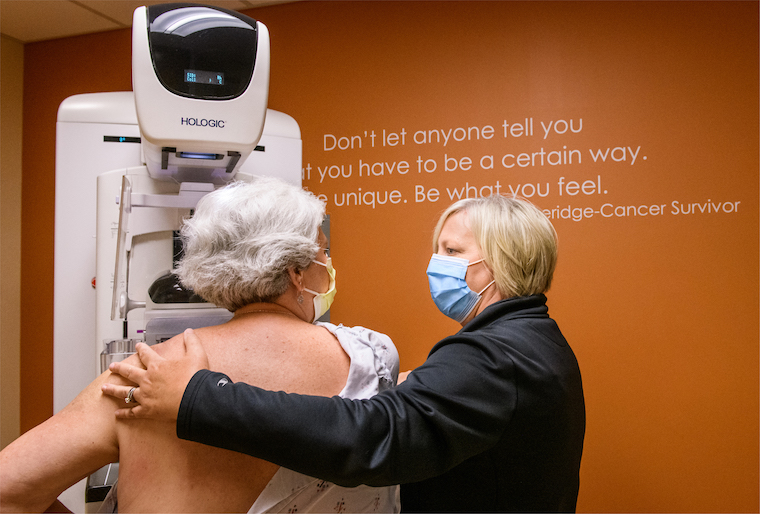 At University of Missouri Health Care, we make getting a mammogram easy. With a dedicated imaging center, same-day appointments and our mobile mammography van, you won't have to travel far. We use the latest technology and methods to find breast cancer at the earliest stages, when it's most treatable.
The latest breast imaging techniques
Our skilled, well-trained certified breast health team offers a full range of breast imaging services for both screening and diagnostic exams. We use leading-edge technology, including 3D mammography and automated whole-breast ultrasound.
Mammograms
Mammograms, which use X-ray technology, can find breast lumps before they're large enough to be felt. They can also show tiny calcium deposits, which sometimes suggest cancer. There are two types of mammograms:
Screening mammograms are routine exams that look for changes from your last mammogram. These preventive exams are used to find cancer and don't need a doctor's referral.
Diagnostic mammograms provide more detailed imaging of your breast if your screening mammogram results require a closer look. Diagnostic mammograms need a doctor's referral.
3D mammograms (tomosynthesis)
Tomosynthesis is a type of mammogram that creates a 3D picture of your breast. Research shows that this method lets doctors be more exact when they screen for breast cancer. You can choose to have a 3D mammogram for a routine screening exam, but be sure to check with your insurance plan about whether it's covered.
Breast MRI
A breast MRI may show abnormalities in the breast that can't be seen with a mammogram, ultrasound or CT scan. The MRI creates images that can show tissue damage or diseases, such as infection, inflammation or lumps.
Automated Whole-breast ultrasound
An automated breast ultrasound exam uses sound waves (no X-rays or other types of radiation) to produce images of the tissues inside the breast. It can show all areas of the breast, which includes the area closest to the chest wall.
Breast MRI and Ultrasound are often used to diagnose breast problems, plan treatment, guide biopsies and perform other procedures. These exams need a doctor's referral. We do offer patients Contrast Enhanced Ultrasound Study (CEUS) when contrast is not recommended.
Mammography van that comes to you
It may be hard to find time for a screening mammogram, but making time for it is important.
We make it easy. The MU Health Care mammography van, or Mamm Van, is a full-service mobile breast health clinic that offers the same top-quality care you'll find at our imaging center.
The Mamm Van offers quick appointments (30 minutes or less), and it travels all over mid-Missouri. The Mamm Van also offers free breast cancer screening for those who meet certain financial guidelines. See the Mamm Van schedule.
At MU Health Care, we believe the best health care is about more than medical skill and the latest technology. It's also about making it easy for you to take care of your health. The Mamm Van is just one of the ways we make good health convenient.
Expert breast cancer care
If you're diagnosed with breast cancer, the expert team at Ellis Fischel Cancer Center offers the most advanced care in the region. Your cancer care team will give you expert, personal care and support every step of the way.
Take Our Breast Cancer Risk Assessment
Related Conditions & Treatments