Whether it's time for your regular mammogram or your doctor has recommended a diagnostic test, we can help.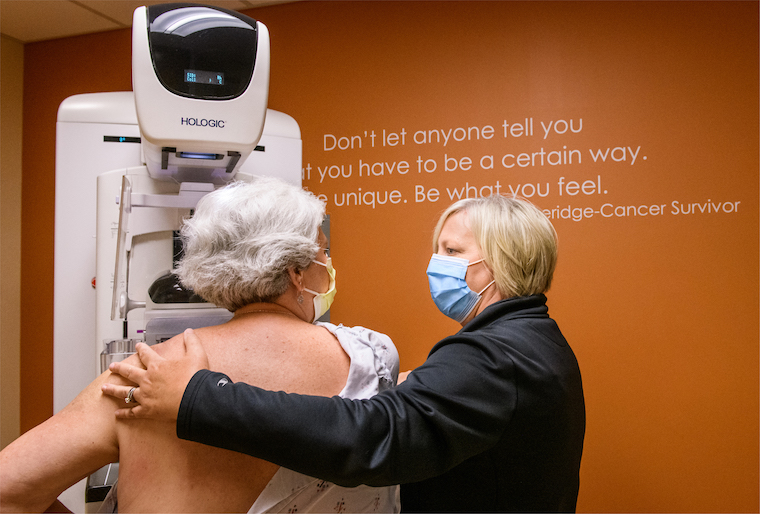 Our dedicated breast imaging center offers a full range of tests, including:
3D mammogram (tomosynthesis)
Conventional mammogram
Automated whole-breast ultrasound
Breast MRI
These tests can help detect breast cancer quickly, accurately and safely. The 3D mammogram, for instance, has proven benefits of increased cancer detection and decreased chances of being called back for additional images.
Having regular screening mammograms ensures that, if you do develop breast cancer, we'll catch it earlier. And the earlier we catch breast cancer, the more effective treatment is likely to be. So a 10-minute mammogram can end up saving your life.
Mammograms designed for your convenience
We want to make it as easy as possible for you to get a mammogram. Your options at MU Health Care include:
Same-day mammograms at MU Health Care
Our dedicated imaging center offers same-day appointments for 3D and conventional mammograms.
Call 573-882-8511 to schedule your appointment.
MU Health Care mammogram van
The MU Health Care mammography van, or Mamm Van, is a full-service mobile breast health clinic. It travels throughout central and north central Missouri, offering the same high quality of care you'll find at our imaging center. Mamm Van services include:
Mammograms and breast health education
Fast appointments (you can be in and out in less than 30 minutes)
Private exam rooms
Breast cancer screenings at health department sites for those who meet certain financial guidelines
Our Mamm Van is currently under maintenance. We will resume our services and post an updated schedule as soon as possible.
Comprehensive breast imaging options  
Our breast imaging center offers the widest range of breast imaging tests available in mid-Missouri:
Conventional and 3D mammograms
Mammograms are the best tool for finding breast cancer early, when it's most treatable. They use X-ray technology to screen for breast lumps when the lumps are still too small to be felt.
In addition to breast cancer screening mammograms, MU Health Care offers diagnostic mammograms. These can provide a more detailed picture of the breast if a screening mammogram finds a potential problem.
For all diagnostic mammograms and many screening mammograms, we use digital breast tomosynthesis (known as a 3D mammogram). This technology can increase the accuracy of your results.
Breast MRI
Your doctor may recommend a breast MRI if:
Your screening mammogram finds a potential problem
You have a high risk of breast cancer
A breast MRI shows abnormalities that can't be seen — or seen clearly enough — with a mammogram or ultrasound. It can help your doctor determine whether an abnormality is tissue damage, infection, inflammation or a lump.
Automated whole-breast ultrasound
MU Health Care is the only place in mid-Missouri where you can have an automated whole-breast ultrasound. This technology helps find and diagnose breast cancer in people with dense breast tissue — which mammograms can't depict as accurately.
If you have dense breasts, your doctor may recommend having regular mammograms and regular automated whole-breast ultrasounds. This increases the chance of finding cancer early, when it's most treatable.
Who should get a mammogram?
When — and how often — you should be screened for cancer depends on your age and risk level.
If you have average risk of breast cancer
If you have an average risk of breast cancer, the American College of Radiology and the Society of Breast Imaging recommend the following:
Ages 30: It's time to start thinking about mammograms and discuss them with a primary care doctor. We recommend women have a risk assessment by age 30, especially women in minorities to ensure they are not at a higher risk.
Age 40: You should start having an annual mammogram screening at age 40. Annual mammograms help to reduce the chance of breast cancer deaths because they can lead to an earlier diagnosis and ensure the best surgery options or chemotherapy.
Ages 75 and up: You may wish to continue mammogram screenings if you're in good health. In some cases, because of health problems or other concerns, you may wish to stop.
If you have a high risk of breast cancer
Your risk of breast cancer goes up if you have:
Chest radiation therapy before age 30
Genetic mutation linked to increased breast cancer risk (such as BRCA1 or BRCA2 mutations)
Personal history of breast cancer
Family history of breast cancer
If you have any of these risk factors, you may need to start screenings before 40 and have them more frequently. MU Health Care has a high-risk breast clinic, where we can help determine a screening schedule that matches your situation.
Expert breast cancer care — if you need it
Most breast cancer screenings don't find breast cancer.
But if you are diagnosed with breast cancer, you'll have access to the most advanced cancer care in mid-Missouri at Ellis Fischel Cancer Center. Your care team will give you expert, personal care and support every step of the way.
Related Conditions & Treatments