From her copper hair and naturally tanned skin to her beaming smile and personal charm, everything about Amy Wells is warm and bright.
A 44-year-old resident of Auxvasse, Missouri, Wells has two children entering adulthood, two big and rambunctious dogs — Moose, a Great Dane mix, and Hans, a German shepherd — and a floral garden in her front yard that has spread around mid-Missouri through its cuttings.
The dogs and garden are an extension of Wells: She, too, is full of energy, and as a former educator, PE teacher and high school coach, she enjoys helping others grow and blossom.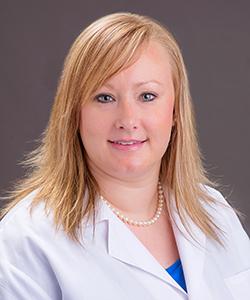 But in October of 2022, Wells was the one in need of support from her community. She noticed a lingering soreness in her left arm, then a lump on her left breast. She did a self-exam and went to her primary care provider, Ashlea Horstman, PA, at MU Health Care's Family Medicine Clinic in Fulton.
Horstman sent Wells to Ellis Fischel Cancer Center right away for a mammogram and a biopsy. The result showed Wells had Stage 2 breast cancer that was positive for elevated levels of a protein called HER2.
"I was ready for the fight," Wells said. "I knew I was going to beat it. It was just a matter of time, and I was ready to start treatments that day."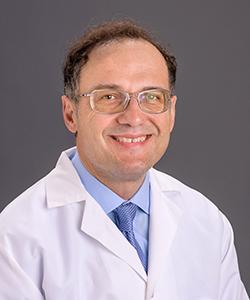 One of the first people to join Wells' fight was Christos Papageorgiou, MD, a hematologist and oncologist who has specialized in breast cancer for more than 20 years. And right behind him was Ellis Fischel's dedicated breast cancer team — including surgical oncologists, radiologists, radiation oncologists, pathologists, nurse practitioners and nurse coordinators, social workers, physical therapists, genetics counselors and doctors like Papageorgiou — who coordinate personalized care for breast cancers specifically.
"To really understand Ellis Fischel, you just have to walk in and experience it," Wells said. "They worked with me to juggle my life and responsibilities, fitting me in to reduce stress through the process. They went above and beyond, and when you're going through something like cancer that just means the world to you."
Beyond the team, Wells was happy to have the expert care she needed close to home because it helped her spend more time with her son, Jack, who was working hard to graduate high school, and her two dogs.
"We are experts in what we do," Papageorgiou said. "I know everybody here is dedicated and committed to breast cancer care. We go over every angle of taking care of breast cancer patients in a breast cancer-specific way. And we take the time to sit and answer questions and connect emotionally with each person who comes through our doors."
For Wells, that meant understanding the long and difficult treatment plan she was embarking on, which included chemotherapy to shrink the tumor, a double mastectomy, five weeks of radiation and a hysterectomy.
Papageorgiou, the clinical trials director at Ellis Fischel, also offered Wells the opportunity to take part in a trial to help advance cancer care that would also be less taxing on her body. Because her cancer was detected before the tumor had grown too large, Amy fit the criteria for a de-escalation trial, which tested the effectiveness of less intense chemotherapy treatment.
"In order to effectively treat cancer you have to be aggressive, but physicians also have a duty to do no harm," Papageorgiou said. "The goal of this study is to eliminate the disease using fewer chemotherapy cycles, thereby reducing the side effects that come with chemo."
During the trial, Wells received four rounds of chemotherapy, rather than six. She spent less time at the hospital, and had less exposure to chemotherapy medications that, while effective, cause hair loss, a weakened immune system and dry skin, and can lead to long-term health effects like nerve damage (neuropathy) and changes in memory.
"After he explained the trial to me, it was a given," Wells said. "I knew if it was going to help the next person, we were going to do that. One of the things that got me was it reduces toxicity by reducing chemo, and so I thought, 'Why not?'"
After the four rounds of chemo and surgery, pathologists at MU Health Care examined the tissue removed and found no evidence of cancer cells.
"I still remember the smile Amy had when we first met, which makes me smile," Papageorgiou said. "I didn't want her to lose that smile during treatment because it's like sunshine. And in Amy's case, it's just the perfect story because she achieved our goal, which was for the cancer to disappear completely, not just shrink. And when I told her the news at the end of treatment, we hugged, and she still had her smile."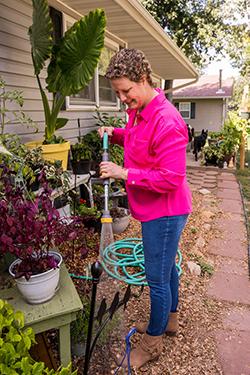 As part of the clinical trial, Wells had port placement surgery for infusions, which she received every three weeks for a year. The nurses and receptionists in the Ambulatory Infusion Unit also became good friends, and every third Friday became one to look forward to for Wells because it meant an appointment with massage therapist Ruth Anne.
"Everyone there is awesome, and we got to know each other on a personal level, which makes the process so much easier," Wells said.
Wells not only had a team fighting with her at Ellis Fischel, but also an outpouring of support from her friends and neighbors in Auxvasse, Kingdom City and across the continent. Friends flew in from Florida and Canada; her neighbors cooked for her, helped Jack get to and from school and generally made life less stressful.
High school classmates organized fundraisers, including mice races, 50/50 raffles and corn hole tournaments, her sorority sisters held a pancake breakfast, and the North Callaway High School girls' basketball program held a benefit game in her honor.
Thanks to the community support she received, and because she has been an example for others to get screened, Wells finds plenty of silver linings in her own story, rays of warm sunshine peeking around the gray clouds. The most exciting was seeing her favorite singer, Lionel Richie, in Chicago on her birthday with her best friend after beating breast cancer.
But perhaps the most impactful was spreading awareness about breast cancer and the importance of preventative screenings like mammograms.
"Self-exams are free, and you'd rather get a mammogram than go down the other path because it's exhausting, it's life-changing," Wells said. "If there's a positive to take away it's how many friends have now gotten mammograms and figured things out. And the fact that I've already gone through the steps, it makes me feel better that I can help them with what to expect and how to not be miserable through the process."