In December 2019, a heaviness hung over Christie McCullough's holiday season. She had just learned that the lump she noticed while reading in bed was breast cancer. But McCullough and her husband, Michael, wanted their 11-year-old son, Jacob, to have a carefree Christmas, so the hard conversation about tumors and treatment would wait.   
"We had traveled to Nashville to see family, and we were able to celebrate and experience Christmas so he could be happy without that looming in the background," McCullough said. "We had this news and didn't know what was ahead, but we really wanted to enjoy Christmas time."
McCullough needed to make sure that when she did explain her cancer to Jacob, she did it her way, with a message of hope and not fear. She not only needed to summon the words, she needed to believe them so her face wouldn't betray her.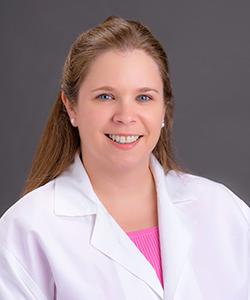 McCullough didn't have to fake it, because she really was hopeful based on her faith and the medical news she received. Emily Albright, MD, a breast surgical oncologist at MU Health Care's Ellis Fischel Cancer Center, made her feel like she was in good hands. Albright told McCullough that her cancer type, HER2-positive, was aggressive but treatable with a well-established combination of chemotherapy and targeted therapy drugs, followed by surgery. The type of surgery would depend not only on her response to treatment, but also on McCullough's personal preferences. She would have a say in her care so she could move forward with peace of mind.
Just before the new year, McCullough and her husband sat down with their son for the conversation.
"Jacob said, 'I am sorry you have to go through this, but I am glad you're going to be OK,' " she said.
After huddling up with Michael and Jacob and saying a prayer, McCullough was ready to begin 2020 with a clear head and a sense of purpose. She took a break from her job as an adjunct faculty teacher at MU's Trulaske College of Business and focused on getting better.
Ringing in a new year
About one in five breast cancers are categorized as HER2-positive, meaning the cancer cells carry unusually large amounts of HER2, a growth-promoting protein on the outside of breast tissue cells. This form of breast cancer grows and spreads quickly. McCullough's tumor wasn't detectable on her annual mammogram in February 2019, but nine months later, she noticed the lump.
An MRI revealed she had one large mass about six centimeters in diameter and also two smaller ones. Fortunately, she had immediately called her OB-GYN when she discovered the lump. The cancer had not yet invaded her lymph nodes.
"Traditionally HER2-positive tumors have always been more aggressive, but since the development of specific therapies that target HER2, we're seeing  a great response," Albright said. "The prognosis for HER2-positive tumors has dramatically improved, so much so that the new staging system reflects this."
Beginning in early January 2020, McCullough received a combination of drugs, some designed to block the HER2 receptors in order to prevent cancer cells from multiplying and others dedicated to killing the existing cancer cells. At first, she experienced sickness that left her so dehydrated she had to be hospitalized for five days. As expected, she lost her hair.
But the difficulties were worth it, as the treatments drastically shrank the tumors. She participated in the tradition of ringing the bell, celebrating the end of four months of chemotherapy. Usually, it's an event attended by family and friends, but by this time, visitors weren't allowed in MU Health Care facilities because of the COVID-19 threat, so McCullough celebrated with her new Ellis family.
"The nurses and the staff in the infusion unit are so fun and supportive," she said. "They lined up in the hallway and cheered me on as I walked down to ring the bell."
A personal decision
In May, McCullough met again with Albright to discuss surgery options. She had gone through genetic testing, which revealed no known mutations that would indicate increased risk for future cancer. She could choose a lumpectomy, which would remove the tumor but save the breast, or a mastectomy, which would remove the entire breast.
"It is mainly a patient's decision if she wants to save her breast with breast conservation surgery versus having a mastectomy," Albright said. "My goal is to help a patient make the best cancer decision. If I think, in trying to save the breast, I won't be able to remove the whole tumor and give them a good cosmetic result, then I typically recommend a mastectomy. But there are many reasons why women choose breast conservation versus mastectomy."
For McCullough, the decision came down to peace of mind. When she was a teenager, her father was diagnosed with liposarcoma, a rare form of cancer that attacked his arm. He had an option to get an amputation in the beginning but decided against it. The cancer kept coming back and ultimately took his life.
"I always told myself, if this ever was up to me, if I had cancer and I had the option to be aggressive early on, I would," McCullough said. "That was always in the back of my mind. Dr. Albright kept assuring me that it's not the same in breast cancer, but it's a life experience I had, and it shaped my decision-making."
McCullough opted to have both breasts removed and to have reconstruction. In June, Albright performed the bilateral mastectomy. Plastic surgeon Stephen Colbert, MD, immediately began the reconstruction process by placing tissue expanders, which are replaced by permanent implants months later.
"Having reconstruction done was important because I wanted to feel as much like 'me' as I could," McCullough said. "It helped me feel more confident and a little more like the person I was before cancer."
McCullough continued to get infusions of targeted therapy drugs Herceptin and Perjeta until the end of the year as a precaution, but she no longer shows any evidence of cancer.
"Given how well she's done, she has an excellent prognosis," Albright said.
The heaviness that hovered over her holiday celebrations in 2019 has lifted. McCullough is already thinking ahead to a joyous season.
"I was just talking to my family about that," she said. "I think I'm ready to celebrate."