At Ellis Fischel Cancer Center, we take a multidisciplinary approach to colorectal cancer care. This means you get the highest level of specialty care all under one roof.
Erik Grossmann, MD, a colon and rectal surgeon at Columbia Surgical Associates and Ellis Fischel Cancer Center, says this approach to cancer care puts the patient first and can improve outcomes.
"We aren't just looking to treat cancer," he said. "We're looking to treat the whole person."
Personalized navigation
Treating the whole person starts with navigating patients to and from their community physicians.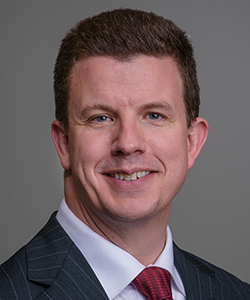 "Because not every hospital has all of these disciplines in one place, it is really important that we are able to work with our patients' community doctors and coordinate their care," Grossmann said.
For some patients, the majority of their cancer treatment can take place close to home. When they do travel to Ellis Fischel for care, they see as many specialists as possible while they're at the center.
"When patients are here, we can easily move them between specialists," Grossmann said. "This makes a big difference in reducing the number of trips patients are making to Columbia — allowing them more time to take care of themselves."
All the specialists you need
Curing patients of colon and rectal cancer can be complicated. It requires a large team of surgical, medical and radiation oncologists, nurses, patient and nurse navigators, nutritionists, palliative care specialists, physical therapists and social workers — just to name a few.
"All of us know each other well, and we're able to communicate with each other easily," Grossmann said. "Instead of having to send someone more than 150 miles from home to see a specialist, they're right down the hall, and I can call them on my cell phone."
Because all of the specialties are in one place, patients at Ellis Fischel are able to schedule treatments faster in a location more convenient to home.
Specialty nurses
Some colorectal cancer patients require temporary or permanent ostomies — openings in the abdominal wall that allow waste products to move out of the body. Grossmann said it's important that patients understand how to care for their ostomy because it will improve their comfort once they get home.
"Many hospitals don't have nurses who have special training to take care of ostomies, and we do," Grossmann said. "Being able to educate our patients how to safely and comfortably care for their ostomy makes a big difference in their well-being after they return home."
Get screened
This year more than 135,000 Americans will be diagnosed with colorectal cancer, according to the American Cancer Society. Grossmann urges people over 45 to get a colorectal cancer screening once every 10 years to reduce the risk of colorectal cancer. To schedule a screening, talk to your primary care physician.