If you or someone close to you is living with a serious illness, palliative care can help improve the quality of life for both you and your loved one. This specialized care provides relief from the symptoms and stress of a serious illness.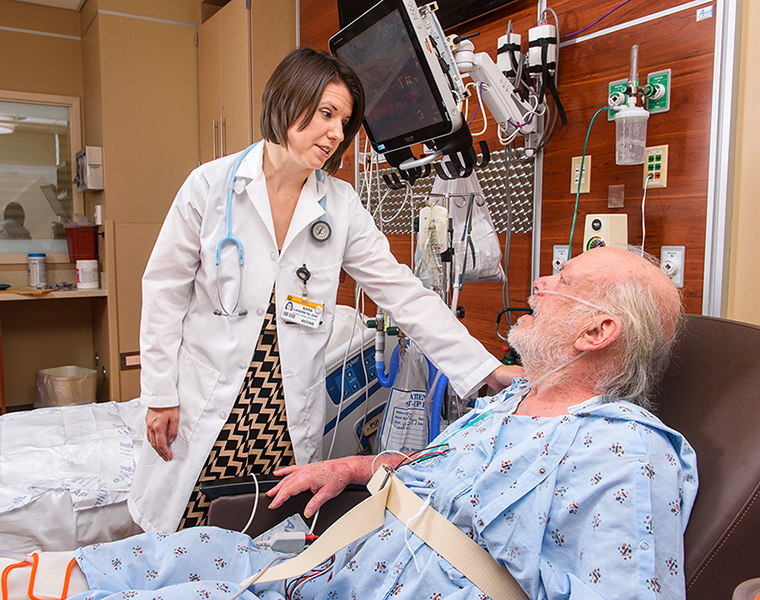 At University of Missouri Health Care, our experienced palliative care team includes doctors, nurses, social workers and other specialists who work with and give you an extra layer of care and support. Your team may also use physical or occupational therapists, counselors, chaplains or yoga practitioners — any specialists who can help improve your quality of life.
You can benefit from this type of care at any stage of illness. We focus on helping you live as well as you can — today.
Is palliative care right for me?
If you answer "yes" to two or more of the following questions, you should consider palliative care:
Do you have one or more serious illnesses, such as cancer, heart or respiratory disease, organ failure or a neurological disease (such as ALS, Parkinson's or dementia)?
Do you have symptoms that make it difficult to do the things you enjoy?
Are you experiencing difficult side effects that require care — either frequent emergency room visits or more than three hospital admissions in the past year for the same symptoms?
Do you need more information or support to manage your illness, such as knowing what to expect, how to make medical decisions, or what programs and resources are available to help?
Do you need help coping with stress, anxiety or depression about your illness?
We offer palliative care in the hospital and on an outpatient basis — MU Health Care is the only health center in central Missouri to offer outpatient services. You can schedule a single appointment with us (you don't need a referral) or ongoing visits. The first visit is an hour.
If you want to see us regularly, you'll meet with the same person, every appointment, with few exceptions. This allows us to build a relationship with you. When you need us, there's a doctor on call 24/7, and we're available by phone.
Expert-level support
At MU Health Care, we focus on the whole person, not just your illness. Your team will build on your strengths to help you live well. Your comfort and well-being is our primary focus.
As an academic health center, we're committed to finding new ways to improve the quality of life for people with serious illness and their families. Our experts conduct research and are on the forefront of the latest supportive care advancements — developments that help us better fulfill your needs. We use the vast resources and expertise of the MU Health Care system to improve your well-being.
How palliative care can benefit you
Consider your palliative care team as your personal champions — knowledgeable professionals who ask what's important to you and make sure your physical, emotional and spiritual needs are met. We can be there for you every step of the way.
Here's what you can expect when you work with us:
Treatment of symptoms. We help you manage symptoms such as pain, shortness of breath, fatigue, constipation, nausea, loss of appetite and difficulty sleeping.
Care coordination. We work with your entire care team — including your primary doctor and other specialists — to help coordinate your care. We understand how difficult it can be to manage appointments, insurance and other details, so we guide you through the process to make it easier for you and your family.
Goal setting. We listen to what's important to you and help you accomplish your goals.
Disease management. We help you manage your illness to avoid repeated hospital or emergency room visits as much as possible. 
Planning. We assist you and your family to ensure your health care wishes are carried out. We can help you create an advanced health care directive, a living will or other legal documents, or assist with long-term care planning.
Education. We help you understand your condition and treatment and what to expect — we can even go with you to appointments to help clarify information. This can help relieve some of the fear and anxiety.