As a marketing director, Allison Kurpius' job is to view the world from the point of view of others and consider what messages might resonate with them. But after Kurpius was diagnosed with breast cancer, she saw firsthand the impact and importance of promoting breast cancer awareness.
"We can have the catchy slogans and we can have the cute T-shirts and all of that, but here's the thing: Go get it done. Get your mammogram done," Kurpius said.
She noticed a lump in her right breast during a regular self-exam in December 2018 and went to her primary care doctor, concerned something wasn't right. After that visit, Kurpius was referred to MU Health Care's Ellis Fischel Cancer Center for a mammogram, and then an ultrasound and a biopsy.
Kurpius received the news that she had cancer on a Friday afternoon. She was sitting at her kitchen table, "trying to hold myself together," when she received another call less than 30 minutes later. It was a nurse at Ellis Fischel, who offered to answer any questions and told her she could meet with a surgeon on Monday.
"It was everything to have someone to talk with about it that very day," Kurpius said. "That's when I saw what it was going to be like to work with Ellis. After I met with my surgeon, I actually felt relieved, because what you really want is to hear somebody say, 'We can do something for you.' I sat down, and the surgeon looked at me, and she said, 'We know what to do with this.'"
Kurpius and her family moved to Columbia in 2015, and she didn't know much about Ellis Fischel. While waiting for her diagnosis, she wondered whether she would have to travel to another city for treatment. After the early interactions with her care team at Ellis, Kurpius was confident it was the best place for her.
"It's not that there's no decisions to make or no actions for you to do, but I thought my life was just going to be filled with trying to coordinate doctor's appointments and running back and forth. That's not what happened," she said. "They really took care of everything. They make the appointments, they coordinate everything, they call and remind you, they tell you where to go. It was just step-by-step. All I had to do is follow along. I had all of these people to support me on this incredibly difficult physical, spiritual and emotional journey. And it was all right here."
Testing showed Kurpius had stage 2B invasive lobular breast cancer, which had spread to her lymph nodes. The cancer cells had elevated levels of HER2 — a protein found in approximately one in five breast cancers that can indicate a more aggressive spread — and tested positive for estrogen and progesterone receptors. Those factors helped her doctors determine her course of treatment.
Kurpius had six months of chemotherapy before surgery. She opted for a double mastectomy followed by reconstruction, and then received six weeks of radiation treatment.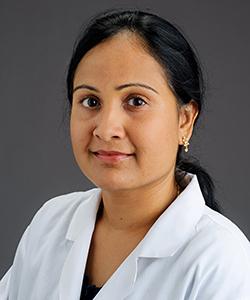 After Kurpius completed radiation, her team suggested she might benefit from taking a new medication, abemaciclib, in addition to anti-estrogen medication. In a clinical trial, abemaciclib was shown to increase disease-free survival, meaning the period after a successful treatment during which there are no signs and symptoms of the disease, by 4-5 percentage points.
"That study did show that using abemaciclib, in addition to anti-estrogen therapy, has helped these women," said Puja Nistala, MD, director of the medical oncology breast program at MU Health Care.  
Kurpius is now in remission and back to living an active life, working, lifting weights, walking the dog, painting and spending time with her husband and two adult sons.
During treatment, Kurpius leaned on her family: Her husband, David, who is dean of the University of Missouri School of Journalism, cooked and made late-night food runs for whatever she felt like eating, and her two sons lifted her spirits in their own ways.
Her younger son, John, who was studying abroad in Europe after Kurpius encouraged him not to cancel his plans, left hats hidden around the house and told her where to find them as Kurpius started losing her hair. Her older son, Blake, adjusted his work schedule to go with her to every chemo appointment, and always brought her favorite smoothie — chocolate with strawberries and peanut butter.
She said what helped her through treatment was "faith, family and Ellis Fischel." Her experience with breast cancer encouraged Kurpius to share her story, and her message to other women is clear.
"Go get yourself checked, and follow up on what your doctor says," Kurpius said. "It's just not something to play around with. The most important thing, and people already talk about it, but I'm not sure it always sinks in, is time matters. Early makes a difference in what surgery you have, whether you have radiation, it changes everything. So don't wait, do it now."