If you have a condition that affects your glands or hormones, the endocrinologists at University of Missouri Health Care have the training and technology to diagnose and treat your illness.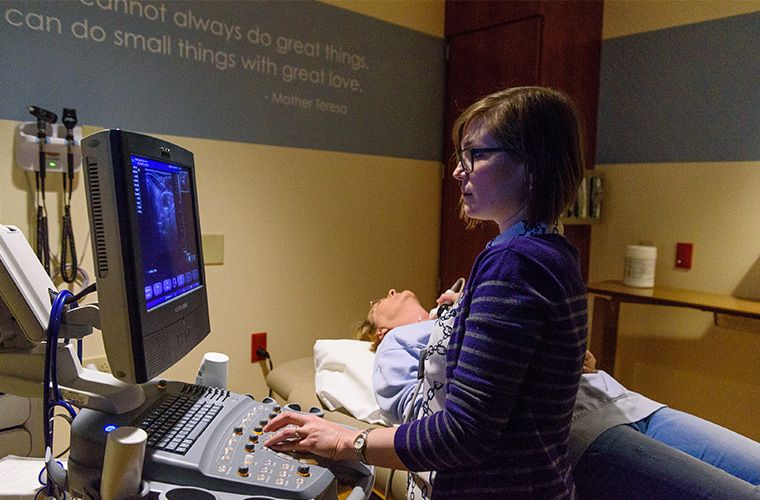 The Cosmopolitan International Diabetes and Endocrinology Center is recognized nationally for excellence in patient care and medical research. Many of our doctors have focused their expertise to treat the neurologic, ophthalmologic and cardiovascular complications of diabetes.
Conditions We Treat
Disorders and conditions our endocrinologists diagnose and treat include:
Diabetes. Conditions that result in too much blood sugar (glucose) in your blood system. This includes type 1 diabetes and type 2 diabetes.
High cholesterol. When the lipids (fats) in your blood are too high.
Metabolic disorders. Conditions in which the body has abnormal chemical reactions that affect metabolic processes.
Osteoporosis. A disease in which the bones become thin, weak and brittle.
Thyroid disorders. The thyroid gland produces hormones that affect a variety of systems in the body, including your muscles, digestion and body temperature.
Diabetes Self-Management Education Program
Our team is dedicated to helping you and your family manage your medical condition.
We offer educational classes as part of our Diabetes Self-Management Education Program, and we offer a Facebook support group where patients can ask questions and receive advice from medical experts and their peers.
Our class instructors include registered dietitians, registered nurses and other health care professionals who have completed rigorous training to become Certified Diabetes Educators (CDE). If you would like to participate in our classes, we recommend seeking a referral from your doctor in order to receive insurance coverage. One-on-one instruction is available for those who have special needs and cannot attend a group class.
Please call 573-882-3818 to learn more or to register for a class.
Class Curriculum:
Intro Class: Our intro class is held the first or third Monday of each month and also the second or fourth Wednesday of each month from 9 a.m. to 3 p.m. Lunch is provided.
In this intro class, we discuss topics related to diabetes management, including:
The basics
Monitoring diabetes
Diabetic medications
Meal planning and healthy eating
Weight loss
Activity and exercise
High and low blood sugars
Sick day care
Diabetic supplies
Complications and foot care
Advanced Class: The second class in our curriculum is held on the third Wednesday of each month from 9 to 11 a.m.
This advanced class provides skill training with a special focus on problem solving. Topics include:
Review of goals set in the intro class
Meal planning
Blood glucose results
Refresher Class: Our refresher class is held on the first Wednesday of each month from 9 to 11:30 a.m.
This course is ideal for those who:
Have attended the intro and advanced classes and are looking to improve the management of their diabetes.
Have attended diabetes education classes at another facility.
Your Visit
You do not need a referral to visit our Center unless it's required by your insurance company or managed care plan.
Please bring your insurance card to each appointment. As a courtesy to our patients, we will file insurance claims for physician and hospital services if we have your accurate and complete insurance information. We accept Medicare and Medicaid.  
If you wish to pay at the time of your visit, please let our staff members know at the beginning of your visit. We accept cash, checks and most major credit cards, and our staff is happy to help you set up a payment plan. If you must cancel your appointment, please let us know two days in advance, if possible.
Most patients ask for prescription refills during their regularly scheduled clinic appointments. However, if you run out of medication before your next scheduled appointment, please call our Center to request a prescription refill.
If you have an urgent need to speak with a physician after clinic hours, please call the University Hospital operator at 573-882-4141 and ask for the Endocrine Consult Service.
About the Cosmopolitan International Diabetes and Endocrinology Center
In the 1970s, the Cosmopolitans — a private philanthropic organization with 3,500 members worldwide — decided to establish a diabetes center at the University of Missouri as part of their campaign against the medical condition. Our founder and longtime director, Thomas Burns, MD, accepted the directorship of the Center in 1978 and worked tirelessly with the Cosmopolitans and MU officials to raise funds for the facility.
The Cosmopolitan International Diabetes and Endocrinology Center opened its doors in 1984 and has served the needs of mid-Missourians with endocrine disorders ever since.
In June 1999, Burns was recognized by the American Diabetes Association for his outstanding contributions to the field of diabetes.