To say quilting is Brenda Duncan's passion is an understatement. Duncan, 53, turned one of the spare bedrooms of her home in Iberia, Missouri, into a workshop full of patterns, fabric scraps and thread. She made multiple quilts for her three children and two grandchildren and began donating her works to charity when she ran out of relatives and friends who needed them.
Duncan was forced to take a break from quilting in early 2017 after learning she had stage 2 lung cancer.
"I had this persistent cough that wouldn't go away," Duncan said. "My primary care doctor figured out I had nodules on my lung. At that time, they weren't growing, so there wasn't a concern, but then things changed."
Duncan began to have what she described as "spasmatic" interruptions. She could no longer hold a conversation without coughing, and each episode would take her breath away. She went back to her doctor, who suggested a lung biopsy. Duncan did not expect a lung cancer diagnosis.
"I was in shock," she said. "I knew something was wrong, but lung cancer? I thought, 'I never smoked. How does that happen?' "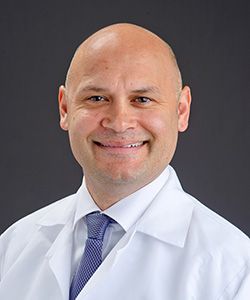 Duncan was referred to Jussuf Kaifi, MD, the chief of cardiothoracic surgery at University of Missouri Health Care. Kaifi, who performs lung cancer surgery at MU Health Care's Ellis Fischel Cancer Center, confirmed the diagnosis and worked with Duncan to develop a personalized treatment plan.
Because Duncan's cancer was confined to her lower left lung, Kaifi and the team at Ellis Fischel suggested a robotic lobectomy, a procedure in which Kaifi would remove the bottom lobe of Duncan's left lung.
Kaifi said traditional lung cancer surgery begins with a large incision on the patient's side followed by opening the chest and spreading the ribcage to get to the lungs. Over the past decade, robotic surgery has become more accessible — and more popular.
Robotic surgery only requires four small incisions — two on the side and two on the chest. Arms from the robotic machine are then inserted through the openings to navigate and remove the lung cancer.
Robotic surgery shortens recovery time. While recovering from surgery, patients might have some shortness of breath, but their bodies adapt to the lower lung capacity within a few months.
"MU Health Care is the only hospital in mid-Missouri to offer lung cancer patients a robotic surgery option," Kaifi said. "There are many advantages for patients, as there are fewer incisions, less pain and a quicker recovery. It also allows surgeons to provide our patients with the safest, most advanced care because we're able to visualize the tumor better."
Duncan had surgery on Feb. 27, 2017. More than two years later, she is considered cured. While she might not know what caused her lung cancer, she knows to be persistent when it comes to her own health.
"You've got to stay vigilant about your health," Duncan said. "I knew there was something wrong because I should have the right to be able to breath and have a conversation without a cough."
Smoking is the main risk factor for lung cancer, followed by exposure to radiation, radon, asbestos or other hazardous materials. Kaifi said genetic mutations also can cause lung cancer.
"Up to 20 percent of women diagnosed with lung cancer didn't have the typical risk factor of smoking," Kaifi said. "We really don't know why Brenda developed a lung cancer. She did the right thing by following up with her doctor when she knew something wasn't right."
More than a year after her surgery, Duncan finally felt strong enough to quilt again. She knew who would get the first quilt she made after overcoming cancer.
"A piece of me feels like Dr. Kaifi saved my life," Duncan said. "I had cancer, and it was growing, so if he can give me a piece of his time, I can give him a piece of mine."
Duncan presented the quilt to Kaifi at her follow-up appointment in May 2019. She asked him ahead of time which color is his favorite — green — and she chose a pattern that represented love. Duncan wanted to make him something that showed her gratitude for his care.
"The quilt was a nice surprise, and it made me very happy because it showed how much appreciation she had," Kaifi said. "Patients see us as they undergo major surgery, and they have to trust us that we do everything in their best interest.
"In Brenda's case, everything went well, and she knew she could trust us. It's always a good feeling when somebody spends so much time to make a handmade gift, and those are the best moments for me."