If you've been diagnosed with lung cancer, you want a team of specialists that has the resources you need to tackle all aspects of your disease. And that's just what you'll find at Ellis Fischel Cancer Center.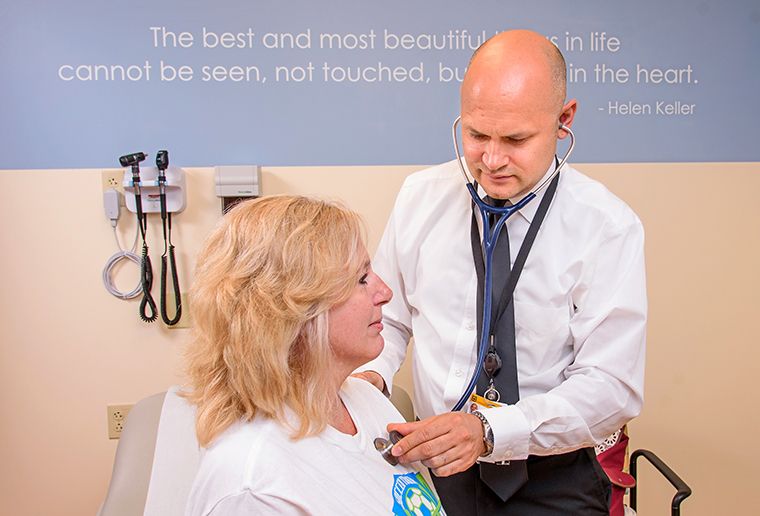 The cancer care doctors and staff at University of Missouri Health Care's Ellis Fischel Cancer Center are experts in treating all types of lung, esophageal and other chest cancers with the newest, evidence-based therapies and technologies.
Ellis Fischel offers a wide range of advanced treatment options for:
Lung cancer
Esophageal cancer
Tumors of the mediastinum, including thymomas and germ cell tumors
Chest wall tumors
Cancers that have metastasized (spread) to the lungs
Pleural mesothelioma
Multidisciplinary lung cancer treatment
At Ellis Fischel Cancer Center your lung cancer treatment will be provided by a multidisciplinary team of cancer specialists that includes:
Thoracic surgical oncologists
Medical oncologists
Pulmonologists
Gastroenterologists
Radiologists
Oncology nurses
Respiratory therapists
Dietitians
Our specialists are committed to taking a multispecialty approach to your treatment and are dedicated to providing leading-edge evaluation and collaborative treatments. We work closely with you throughout every step of the treatment process — from diagnosis, to treatment, to recovery and aftercare.
Advanced treatment options
Your MU Health Care cancer care team has access to the very latest treatments for lung, esophageal and other chest cancers as well as innovative lung cancer treatments through national clinical trials. We use the most advanced medical and surgical treatments available and will work with you to create a personalized treatment plan that matches your diagnosis and needs.
Examples of our advanced services include:
Our surgeons are highly skilled and experienced in performing minimally invasive and robotically assisted surgery for curative purposes. This includes minimally invasive lung or esophageal resections and thymectomies. These surgeries allow for faster recovery with less trauma and smaller incisions.
Our pulmonologists and interventional radiologists perform innovative biopsies with navigational imaging techniques and endobronchial ultrasound-guided bronchoscopies.
The radiation oncology team offers novel and tissue-preserving stereotactic radiation therapy techniques (radiosurgery).
Our medical oncologists offer new medications that produce fewer side effects, including immunotherapy agents.
You can expect the latest breakthroughs in treatment and the possibility of participating in clinical trials. Our multispecialty approach ensures you will receive all aspects of personalized care. All available treatment options will be considered to ensure the best possible outcome.
Related Conditions & Treatments