Colorectal cancer is the third leading cause of cancer-related deaths in women in the United States and the second leading cause in men, according to the American Cancer Society. While the cause of most colorectal cancers is unknown, the disease is largely preventable through healthy lifestyle choices and regular screenings.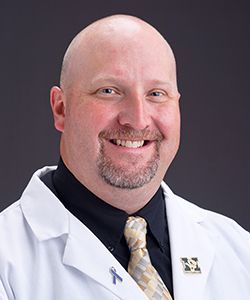 Educating yourself on how to reduce your risk of colorectal cancer is key. Here are five tips from gastroenterologist Matthew Bechtold, MD:
"Certain lifestyle behaviors have put patients at increased risk for colorectal cancer," Bechtold said. "By reducing these risk factors, you can significantly diminish your odds of colorectal cancer. However, you will still need to undergo screening despite reducing all risk factors since genetics do play a role as well."
Watch your weight.
Obesity has been shown to increase the risk of colorectal cancer. If you are overweight or obese, ask your doctor about healthy ways to manage your weight and achieve your goals. If you are already at a healthy weight, keep up the good work, and focus on weight maintenance.
Keep active.
A little bit of exercise can go a long way in reducing your risk of colorectal cancer. I recommend walking for 30 minutes per day most days of the week. If you aren't used to regular exercise, start small, and ask a family member or friend to join you. As you build strength and stamina, you can increase your length of activity and level of difficulty. As always, talk to your primary care provider about what may be the best regimen for you.
Think about what you eat.
We often talk about the impact of food on overall health. To help reduce your risk of colorectal cancer, strive for a balanced diet. I recommend cutting back on red meats such as beef, pork and lamb. Diets high in red meat have been associated with an increased risk of colorectal cancer. This doesn't mean you can't have red meat, but try to add more veggies, fruits and whole grains to your diet. Not only will this help reduce your risk of colorectal cancer, it also can help with weight management and blood pressure, among other things.
Quit smoking – or don't start!
Long-term smoking puts you at risk for a number of health issues including colorectal cancer. Don't wait to quit until you're diagnosed with a deadly disease. Quitting smoking can greatly reduce your risk of colorectal cancer and other serious health issues. For help quitting smoking talk to your doctor.  In addition to smoking, moderate to heavy alcohol intake has been shown to increase the risk of colorectal cancer, so be sure to discuss this with your primary care provider as well.
Get screened.
If you think colorectal cancer can't affect you, you're wrong. Although having a family history of colorectal cancer increases your risk, the majority of colorectal cancers occur in people with average risk and no family history. The good news is you can greatly reduce your risk of colorectal cancer by engaging in healthy lifestyle choices and participating in an appropriate screening program.
Most people should start screening at age 45. If you have a family history of colorectal cancer, you should start screening even earlier. The National Cancer Institute has an online risk calculator to help you determine your risk and get more informed about screening.  Because there aren't many early signs or symptoms of colorectal cancer, people who don't participate in an appropriate screening program often have more advanced disease when diagnosed.
"We have the ability to identify and remove pre-cancerous tissue to prevent colorectal cancer from happening," Bechtold said. "The way to identify these potential pre-cancerous lesions is screen. Given that less than 70 percent of patients that should be getting screened for colorectal cancer are getting screened, we need to do a better job of promoting adequate screening."
Talk with your doctor about which screening option is right for you. If colonoscopy is appropriate for you, schedule your procedure today at Missouri Digestive Health Center - Fairview Clinic by calling 573-882-1434. You will need a physician referral.