Erin Brower is passionate about helping children in her southern Missouri hometown of Willow Springs. She is a former teacher, a current elementary school counselor and the long-time organizer of the town's annual fundraising drives that ensure families in need receive back-to-school supplies and Christmas toys.
When Brower missed a few months of work after recovering from surgery on both of her legs, the students were curious about what had happened to her.
"I tried to explain in kindergarten terms that I now had some metal rods in my legs," Brower said. "One of the little boys told me, 'You're a robot, Miss Brower.' "
She's not a robot, but she is a medical marvel. After years of increasing leg pain, Brower is feeling good after receiving innovative treatment at University of Missouri Health Care.
"At work, I can be more active and go into all the classrooms, no matter what floor or level it's on," she said. "I can get down on the floor with the kids and play games. I can play with my grandkids at the water park — all those things where before I was sitting on the sidelines watching happen."
Brower, 44, was born with hypophosphatemic rickets, a rare genetic disease that prevents her body from absorbing enough Vitamin D to keep her bones and teeth strong. Her mother had the same disease. As Erin grew, the soft bones in her legs bowed, which slowed her down but didn't stop her from accomplishing her goals.
Brower's knack for science and love for kids led her to the field of education. She spent 17 years as a high school chemistry teacher before transitioning to her current role. She married and started a family that includes a stepson, Andrew, who now has two children of his own, and a teenage daughter, Grace, who did not inherit rickets.
In the last decade, Brower's leg pain increased. On a 2018 family vacation to Pensacola, Florida, she reached her breaking point.
"Just walking in the sand was almost too much. I said, 'As soon as I get back, I've got to do something,' " she said.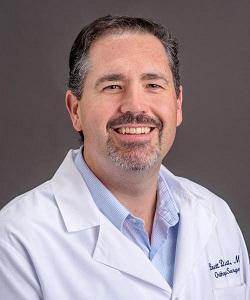 X-rays revealed that Brower had multiple stress fractures in both legs. She was referred to Brett Crist, MD, of MU Health Care's Limb Preservation Center. Crist is one of the few orthopaedic surgeons in the state who perform the complex clamshell osteotomy surgery she needed.
"The extent of her bowed legs is usually related to rickets, which is rare," Crist said. "But we regularly see patients with bones that heal incorrectly after a break. Those are called malunions. And we see people who have bone deformities that we have to correct to get them to heal. Those are called nonunions."
Brower needed surgeries on the bones of her upper legs (femurs) and lower legs (tibias). In each case, Crist cut through the bone above and below the bowed portion. He then made a cut down the length of the curved part of the bone, wedged it open — like a clamshell — and inserted a rod to help straighten and stabilize the bone. He operated on both femurs in January 2019 and both tibias six weeks later. Brower began physical therapy that summer and was walking without crutches by November of the same year — and gained three inches in height in the process.
As an academic health system with doctors in more than 80 specialties and subspecialties, MU Health Care takes a team approach to complex problems. Crist referred Brower to endocrinologist Muhammad Salam, MD, to treat the underlying cause of her condition. Salam prescribed a recently approved innovative medicine that helped her body preserve phosphorus, which helps build stronger bones. This improved her pain and promoted bone healing after surgery.
"MU Health Care, Dr. Crist, his entire team, all the specialists who have played a part in this, they've given me my life back," Brower said. "I can do all the things I want to."
Crist said Brower eventually might need knee replacement surgeries because of arthritis in her knees — a common problem for people with bowed legs — but for now she is pain-free and more active than she's been in 10 years. Her only regret is that she lived with the pain for so long before finding a solution.
"I can mow the yard with a push mower and weed my garden and keep up with my grandkids," she said. "It's not an easy decision to devote almost a year to something, but your health is really important. I still have a lot of things I want to do with my family and for my community."