Drevyn Seamon's freshman season as a sprinter on the Rock Bridge High School track team had barely begun when he felt a jolt of pain in his upper leg at practice. At first, he thought the problem might go away on its own, but he soon realized that wasn't the case.
"At the first meet, I knew there was something wrong — definitely," Drevyn said. "So I just stopped."
For an athlete like Drevyn, time is a valuable commodity. Hundredths of a second separate first and second place, and even a minor injury can turn a champion into an also-ran. Figuring out what was wrong and fixing it quickly was his biggest priority.
His mother took him to MU Health Care's Sports Medicine Injury Clinic, which is a convenient first stop on the road to recovery. The clinic, located in the Missouri Orthopaedic Institute, is designed for busy schedules. It's open from 7-8 a.m. each weekday and requires no appointment. The clinic diagnoses and treats broken bones, concussions, ligament sprains and tears, muscle strains and other injuries that have occurred within the past seven days.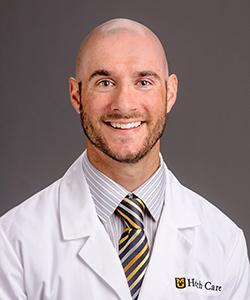 "It's great if you had a game over weekend or a practice the night before or even if you slipped and fell in the garden and got hurt and don't want to wait in the emergency department for something that doesn't seem urgent," said Steven DeFroda, MD, a sports medicine doctor and orthopaedic surgeon. "Come see us the next morning. You can get an X-ray if you need one, a physical examination and see a provider. If you need more testing or need to see someone on the surgical side, we can set all those appointments up for you."
After an exam and X-rays, Drevyn was diagnosed with a strained quadriceps muscle. He was referred to a Mizzou Therapy Services physical therapist and then a Human Performance Program trainer. They helped him heal and build strength in the correct muscle groups so he could get back on the track and be less likely to suffer a similar injury in the future. Mizzou Therapy Services and the Human Performance Program are part of MU Health Care, so therapists and trainers can easily communicate with each other and with doctors to ensure coordinated care.
Drevyn met his goal to return to competition in time to qualify for the state meet. The results spoke for themselves. He ran on the 4x100 and 4x400 meter relay teams that won gold medals and helped Rock Bridge win its second straight Class 5 state title as a team.
"It felt great," Drevyn said. "I felt really appreciative of everyone that did everything for me, the physical therapists, my parents, everyone."