Aquatic therapy is physical therapy that is done in a pool under the supervision of a specially trained therapist. Also known as water therapy or hydrotherapy, aquatic therapy uses the unique properties of water to help patients do therapies they would be unable to do outside the pool.
At University of Missouri Health Care, our therapists can help adults and children with a wide range of conditions regain function more quickly using Aquatic therapy.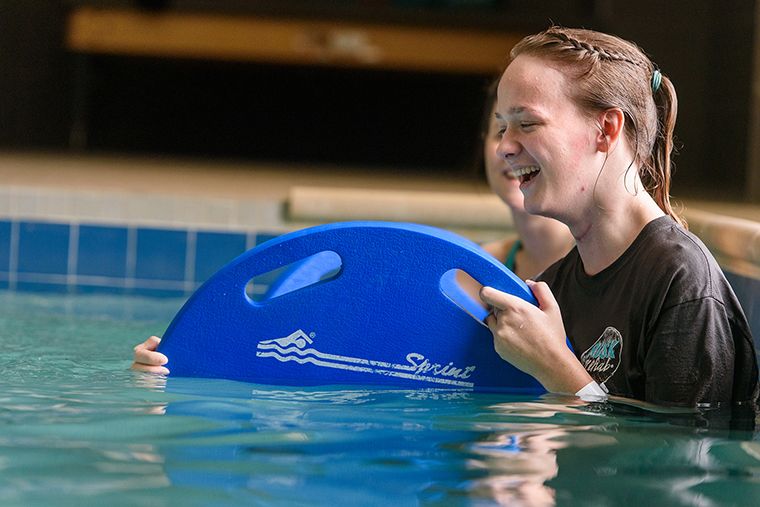 What is aquatic therapy?
Aquatic therapy involves the use of a therapy pool for physical therapy exercises to treat various conditions including arthritis, chronic pain and other ailments. Aquatic therapy can improve movement and mobility, strength, endurance, stability, balance and cardiovascular health in an environment where patients experience less pain and difficulty.
Aquatic therapy is different than aquatic exercise or fitness because it is a physical therapy treatment that involves a specially trained therapist and a therapy pool. Aquatic therapy is covered by most insurance providers.
What are the benefits of aquatic therapy?
Water has a few properties that are useful in physical therapy — buoyancy, viscosity and hydrostatic pressure.
When in the therapy pool, buoyancy provides a sense of weightlessness that reduces stress on joints. This can be particularly helpful for patients with arthritis and other conditions that involve pain in weight-bearing joints.
Viscosity refers to the resistance encountered when trying to move through water. This resistance helps with strengthening muscles. The combination of resistance and buoyancy means patients can do therapy exercises more easily and with less pain while still making important gains in strength and function.
Hydrostatic pressure — which produces forces perpendicular to the body's surface — works to decrease swelling and improve joint position awareness. This is helpful for patients who have joint or ligament injuries or arthritic disorders.
The water relaxes muscles and increases blood flow to injured body parts. Patients with conditions such as muscle spasms, back pain or fibromyalgia can benefit from this therapy.
Who can benefit from aquatic therapy?
Adults and children can benefit from Aquatic therapy. Our therapists can create a treatment plan that takes into account age-related or physical limitations to deliver a positive experience.
For adults, our therapists use Aquatic therapy to treat several conditions, including:
Arthritis
Chronic pain
Fibromyalgia
Injuries
Post-surgery recovery
For children, Aquatic therapy to improve motor skills in children with:
Autism
Cerebral palsy
Developmental delays
What should I expect if I begin aquatic therapy?
Your therapist will recommend a treatment plan based on your unique situation. It might include pool therapy exclusively or a combination of physical therapy inside and outside the pool, with the goal of progressing to traditional physical therapy.
What are your aquatic therapy pools like?
Adult patients use the therapy pool at Mizzou Therapy Services' Forum Boulevard and Mexico Area Family YMCA locations. Children undergo water therapy in the therapy pool at Rusk Rehabilitation Hospital, an affiliate of Encompass Health and MU Health Care.
The pool at Rusk feature benches, different depths of water, up to seven feet, as well as steps for easy entry. Safety is our top priority, and the pools include cord pulls, floatation devices and neck rings for children.
Related Conditions & Treatments