Each person who is newly diagnosed with cancer or is following treatment for cancer has unique needs. Cancer rehabilitation at University of Missouri Health Care can help individuals become stronger, more independent and move better.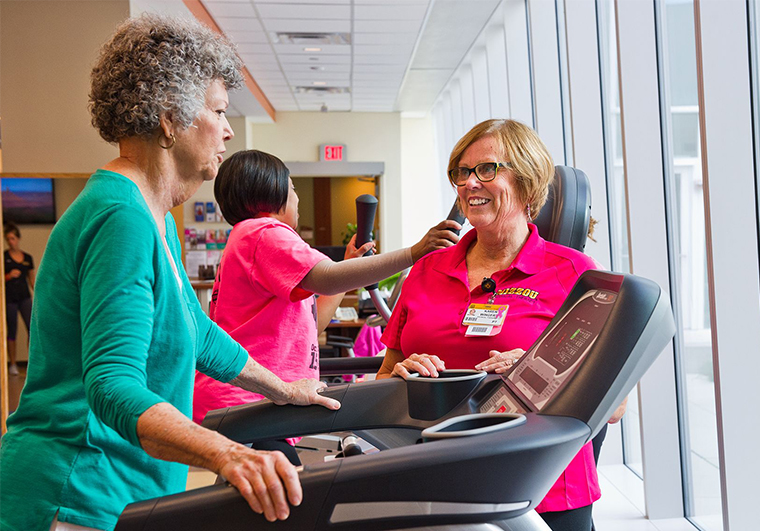 Cancer rehabilitation and therapy may also help lessen your side effects of treatment such as extreme tiredness, pain, scarring, nausea, problems thinking (sometimes called "chemo brain") and a type of swelling named lymphedema.
Services we provide
The Mizzou Therapy Services team provides the following services at Ellis Fischel Cancer Center:
A physical therapist, occupational therapist and/or a speech therapist performs an evaluation. We collect a thorough medical and personal history, measure your ability to move and identify problem areas you may be experiencing.
We complete a risk assessment of complications from treatment, which could include scar tissue, movement or self-care problems and lymphedema.
Working with you, we develop an individualized plan that may include physical therapy, occupational therapy, speech therapy or a combination of therapies.
Lymphedema treatment
Some cancer survivors have a condition called lymphedema. Lymphedema is a chronic swelling in your limbs that can happen after lymph nodes are damaged by cancer treatments. We offer the gold standard of treatment for this condition, named Complete Decongestive Therapy (CDT). CDT includes manual lymph drainage, compression bandaging, skin care, exercise and education. Our certified lymphedema therapists teach patients self-care techniques and help fit patients with the proper compression garments.
Your cancer rehabilitation team
Our Mizzou Therapy Services therapists at Ellis Fischel are specially trained in several aspects of cancer rehabilitation, including lymphedema. Our goal is to help patients live as independently as possible during and after treatments. We provide therapies that focus on returning to daily activities as well as increasing mobility and motion.
We specialize in the following areas of therapy:
Occupational therapy
Physical therapy
Speech therapy
Occupational therapy
Our occupational therapists help you get back to the activities that may be disrupted by cancer or the effects of treatment. We provide therapy for many daily tasks, including:
Education prior to surgeries, such as mastectomies
Evaluation and recommendations for bathroom equipment or adaptive equipment
Exercises to help Improve movement, and strengthen your hands and arms
Treatment for peripheral neuropathy, or tingling or numbness in your hands
Cognition exercises including combating "chemo brain"
Training in self-care tasks to increase your independence
Exercises to increase endurance
Therapies to help improve your walking and balance
Physical therapy
Our physical therapists help patients improve the way they move. Your physical therapist works with you in collaboration with your doctors and other health care professionals.
Exercise can be difficult as a cancer patient and survivor. Our therapists have created 20-minute routines for all abilities so you can get back into your exercise routine or start a new one today.
Speech therapy
The speech-language pathology team serves individuals with communication and swallowing disorders related to cancer. This includes patients who have undergone a total laryngectomy (complete removal of the larynx, which contains the vocal cords).