Patients recovering from COVID-19 have special needs, and they can receive specialized therapy in their own home through our COVID Recovery Program.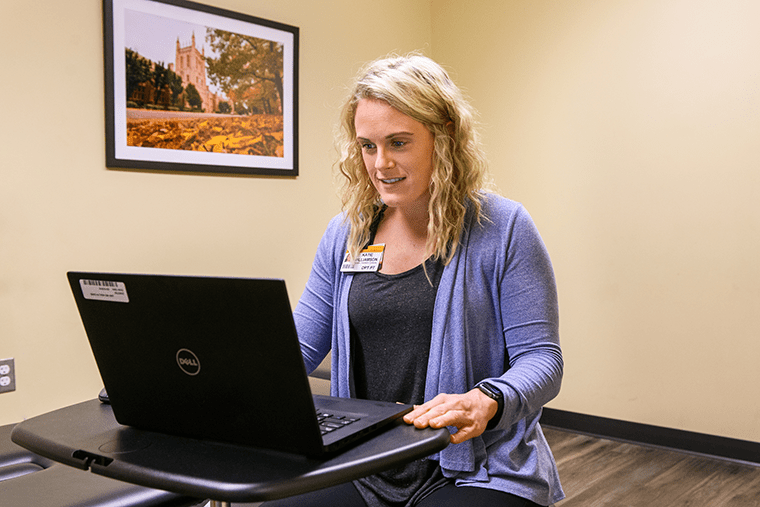 Many patients who have had COVID-19 experience problems including fatigue, shortness of breath, decreased strength and coordination, and memory and attention problems. These symptoms can vary in severity, but each can affect quality of life during and after recovery.
And for some patients known as long-haulers, they might experience symptoms of the illness many weeks or even months after having it.
Mizzou Therapy Services' COVID Recovery Program offers in-person and telehealth appointments to help you overcome or manage these symptoms.
The program is available to anyone who has had COVID-19. You will need to get a referral from your primary care provider. If you don't have a primary care provider, you can find one here.
For people who have not fully recovered from active COVID-19 infection and are still experiencing difficulties in daily activities, the program offers the following:
Speech language therapy to help with difficulty swallowing, breathing, voice control, word-finding and attention.
Occupational therapy to assist with fine motor activities (dressing, bathing, toileting, writing/drawing, driving) and fatigue that leads to difficulty completing daily tasks.
Physical therapy to help with return to work, return to sport, breathing, walking/standing for longer periods of time, lifting, carrying pushing or pulling.
Human Performance Program Transitional Training to build strength and fitness to return to peak activity.
Therapy appointments are available via secure Zoom video conferencing or in our clinics. MU Health Care's language services team can provide an interpreter if patients aren't fluent in English. Learn more about telehealth appointments.
Related Conditions & Treatments