Dominic Cleeton comes from a family of farmers. His favorite hobbies include baling hay, working cows and riding in tractors.
Dominic, who lives near Moberly, Missouri, also loves to make up silly songs. For example, he recently created a farming version of a popular nursery rhyme: "The hay on the baler goes round and round."
This might sound like normal behavior for a kid, but the Cleeton family doesn't take Dominic's singing for granted.
"Dominic was an emergency C-section who spent 18 days in the NICU," said Hope Cleeton, Dominic's mom, referring to the MU Health Care Children's Hospital's neonatal intensive care unit. "While he was there, they gave him a hearing test, and he failed."
Dominic was born with Noonan syndrome, a genetic disorder that can cause hearing loss, heart disease, musculoskeletal issues and more. After graduating from the NICU, he and his family went across the street to MU Health Care's ENT, Hearing and Balance Center to undergo a diagnostic auditory brainstem response (ABR) test.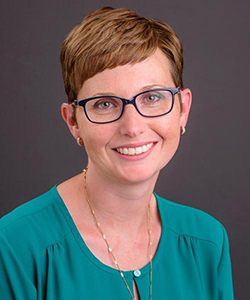 The test measured his brain's response to sound.
"After that test, we were able to determine Dominic had no usable hearing," said Morgan Hahn, an MU Health Care audiologist. "We could not detect any response to sound."
This came as a surprise to Dominic's parents, but they didn't feel dejected.
"It wouldn't do us any good to be angry or sad or to pity ourselves," said Tyler Cleeton, Dominic's dad. "If we wanted to give him the highest quality of life, we had to move forward and research the next steps."
Choosing cochlear implants
The Cleetons had two options: They could learn sign language and raise a deaf child, or they could pursue cochlear implants.
A cochlear implant is a hearing device that is surgically inserted into a patient's inner ear. It has two main parts: a processor that is worn externally, and a receiver that is implanted under the skin. The processor picks up speech and environmental sounds, and the receiver converts sound into electrical pulses that are sent to the brain. The brain interprets these electrical pulses as sound, and as a result, the patient can hear.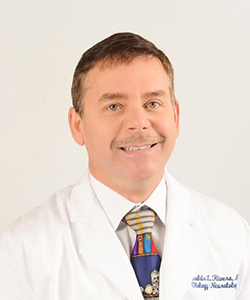 After much thought, the Cleetons chose cochlear implants. MU Health Care neurotologist Arnaldo Rivera, MD, installed Dominic's implants in two separate procedures after his first birthday. Rivera is the only board-certified and fellowship-trained pediatric cochlear implant surgeon in mid-Missouri.
After two smooth surgeries, it was time to activate Dominic's implants. He immediately reacted to the sounds around him.
"It was a pretty emotional moment for me," Tyler said. "It was exciting and tearful and an amazing day. It made all the testing and all the doctor's appointments worth it."
But the family's journey had only begun.
"What I do is the easiest portion," Rivera said. "After activating the implants, it takes a committed family and a team of experts to achieve the hearing outcomes we're looking for."
Developing a new sense
After his surgeries, Dominic enrolled in speech therapy sessions at MU Health Care's Children's Therapy Center.
"The first thing we do is teach the kiddo what sound means," said Katie Threlkeld, Dominic's speech language pathologist. "We want them to understand sounds and where they are coming from. The kiddo is not going to immediately understand what the word 'dog' is, so we start with the sound a dog makes — 'woof, woof' — and give that sound a meaning. Then, we eventually get to 'dog,' which turns into 'the dog plays,' and then, 'My sister and I play with the dog outside.' "
Within a few months, Dominic's vocabulary grew rapidly. As Dominic progresses though therapy, he also regularly visits the audiology team to get his cochlear implants fine-tuned — a process called "mapping."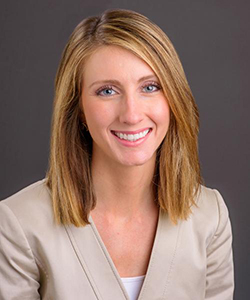 "The auditory nerve learns very quickly and changes very rapidly," said Roseanna Arand, an MU Health Care audiologist. "Sounds that were once very loud to the patient might eventually become very quiet. We closely monitor these changes to ensure the levels are where they should be."
MU Health Care's team of specialists play a key role in Dominic's development, but his parents are also pivotal to his progress.

"We give parents homework after every session because their child's habilitation needs to continue in the home environment," Threlkeld said. "Hope and Tyler have been awesome. They implement the strategies and exercises we go over during our sessions, and this gives Dominic the best opportunity for growth across speech, language and cognition."
With kindergarten on the horizon and Dominic nearing the end of his speech therapy sessions, the Cleeton family can reflect on the experience as they watch their son play and sing on the farm.
"Having Dominic's birth, surgery, speech therapy and audiology all occur in the hospital we grew up in is the greatest feeling ever," Tyler said. "We've heard about families who have packed up and moved across the state or across the country to find a good audiologist. Everything we need is at Children's Hospital. We are thrilled with how well Dominic has done and how amazing the doctors and therapists have been in Columbia. They've made a world of difference."