Experience life loud and clear with University of Missouri Health Care's Cochlear Implant Program.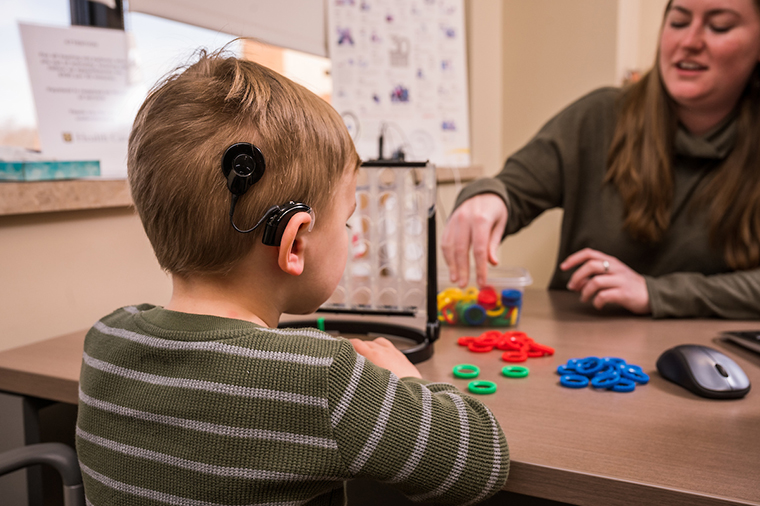 If you have severe to profound hearing loss and receive no benefit from hearing aids, you may be a candidate for our Cochlear Implant Program. A cochlear implant is an electronic medical device that replaces the function of the inner ear to restore some hearing. 
Our cochlear implant team brings together experts from multiple specialties to provide support to implant candidates and recipients every step of the way, including support for families. Our highly trained, state-licensed audiologists provide cochlear implant services ranging from the initial evaluation to the follow-up appointments. We specialize in treating children and adults and take an individualized, patient-centered approach to maximize hearing potential.
Cochlear implant team
The cochlear implant team includes professionals with extensive experience and knowledge in areas related to deafness.
Members include:
Audiologists
Clinical psychologists
Deaf educators
Neurotologist
Otologist (surgeon)
Speech-language pathologists
 
Cochlear Implant Program
The cochlear implant team works together to provide a comprehensive program from the initial evaluation through the post-procedure process. This includes:
Education and counseling
Candidacy evaluation
Surgery
Postoperative electrophysiological testing
Cochlear implant programming
Ongoing aural rehabilitation
Who is eligible for cochlear implants?
All candidates will initially meet with one of our cochlear implant team audiologists. To schedule an evaluation, please contact us at 573-882-4327(HEAR).
Candidates can be adults or children who meet the following criteria:
Limited benefit from hearing aids
Medically cleared for surgery
Realistic expectations
Severe to profound hearing loss
What does the evaluation include?
Every potential candidate receives an individualized evaluation from the team. This evaluation assists the candidate and his/her family in making an informed decision regarding a cochlear implant.
Evaluations may include:
Audiological (hearing) assessment
Baseline auditory skill assessment
Baseline speech/language evaluation
Cochlear implant orientation
Computed tomography (CT) scan and/or magnetic resonance imaging (MRI)
Ear, nose and throat examination
Expectations discussion
Vestibular (balance) evaluation
If you are a candidate for the cochlear implant, your audiologist will talk with you about the components and function of the implant device, its benefits and limitations, and the surgical process.