Right outside Jesse Eddington's front door in Hannibal is Ben Lomond Street, an old Civil War road. It climbs at a steep angle for 200 yards to an overlook where you can see most of town and a sliver of Illinois across the Mississippi River. 
Each evening, Eddington takes "the love of my life," a one-eyed white Cairn terrier named Sweet Caroline, up the hill for another look. Eddington is 88 and has lived at the same address for about half that time, but the view never gets old. 
In May 2017, Eddington wondered how much longer he would be making the climb. He was often short of breath and occasionally confused. An echocardiogram revealed a severe case of aortic valve stenosis — a narrowing of the opening where blood leaves the heart.
He needed surgery.
"I was a little apprehensive," Eddington said. "I said to the doctors, 'Isn't 85 getting a bit old for this kind of stuff?'"
His age did make open-heart surgery too risky. But he was a perfect candidate for transcatheter aortic valve replacement (TAVR), a procedure offered to older patients at University Hospital.
"We just kind of expect in your 80s and 90s you get short of breath, but you don't have to live that way," said Kim Sperry, RN, the nurse coordinator of MU Health Care's TAVR program. "The symptom management is really huge for these people. Most of them will come back and give us these great one-liners, like, 'I went to Walmart by myself for the first time in years,' or, 'I can care more for myself.'"
In a typical TAVR procedure, a catheter with a new valve is threaded to the heart through the femoral artery in the groin. The new valve is placed over the diseased valve, and a balloon is inflated inside the diseased valve, pushing it against the walls of the new valve. The balloon is deflated and removed, opening the path for blood to flow freely again.
University Hospital began performing the procedure four years ago.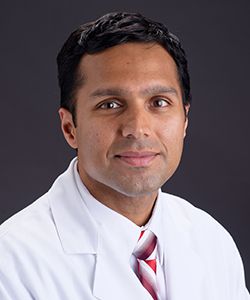 "Previously, the only alternatives were St. Louis and Kansas City," said MU Health Care cardiologist Arun Kumar, MD. "An elderly person in their 80s or 90s, they often don't want to drag their families all the way to St. Louis or ask their family to take days off and go to a big city. They would prefer to stay in mid-Missouri."
Interventional cardiologists Kumar and Richard Webel, MD, along with cardiac surgeon John Markley, MD, worked together as part of a multidisciplinary team to perform Eddington's TAVR procedure on Dec. 1, 2017. Two days later, Eddington was back in Hannibal, fixing dinner for his wife, Linda, and his older brother, Leslie.
"They treated me like royalty," he said of his experience at University Hospital. "Everybody was just as good as they could be. Kim was wonderful."
Eddington, who farmed until his late 70s, still loves to grow tomatoes. He looks forward to planting that garden again, along with doing some of his other favorite activities, such as reading World War I history, listening to his Neil Diamond albums and, of course, taking Sweet Caroline up the hill every evening for another look.
"He was hesitant about having surgery because he felt like he had lived a long, good life," Linda Eddington said. "The doctors kept encouraging him to have this surgery, and he's so glad he did."