If you need a heart valve replacement, but are not a candidate for open heart surgery, our heart valve team offers a minimally invasive surgical option — transcatheter aortic valve replacement (TAVR).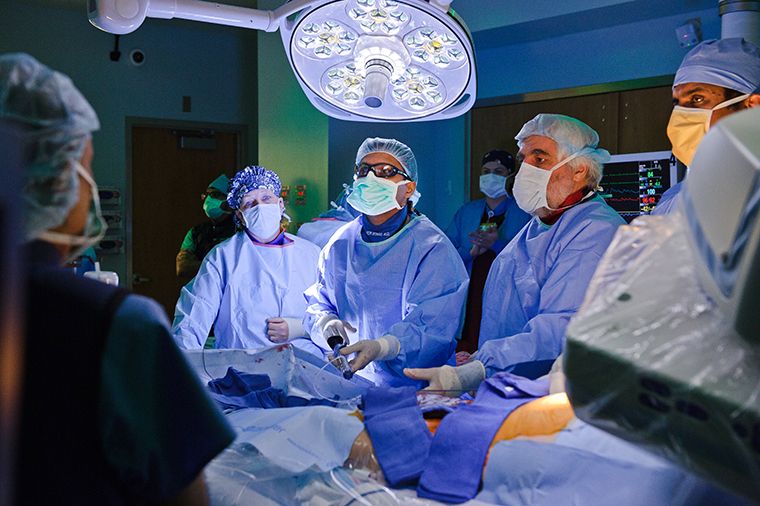 MU Health Care offers the region's most experienced TAVR surgeons, as we were the first facility in mid-Missouri to perform the procedure in 2014.
During TAVR, your heart valve team can repair your damaged heart valve without large incisions. This advanced technology helps you recover from the procedure more quickly than traditional surgery and achieve a better quality of life.
TAVR - A minimally invasive heart valve surgery
If you have aortic stenosis, your aortic valve is too narrow to allow blood to flow to the rest of your body. The stenosis causes your heart to work harder, increasing your risk for heart attack, arrhythmia and heart failure.
MU Health Care's heart valve team can replace your aortic valve, allowing better blood flow and relieving strain on the heart. During TAVR, your multidisciplinary team of interventional cardiologists, imaging specialists and surgeons insert a catheter (a thin tube) through an artery in your groin or the left side of your chest. Using X-ray guidance, the team threads the catheter to the heart and positions a new heart valve. The new valve is made of biological tissue and is implanted over the old valve.
After the procedure, you will continue to receive care in a specialized cardiac intensive care room. Many patients are able to leave the hospital in as little as two to three days. After your stay, our cardiac rehabilitation teams will design a personalized treatment program to help you rebuild your strength and improve your heart health.
Comprehensive heart valve disorder treatment
If you are not a candidate for TAVR, our heart and vascular care specialists provide more treatment options for aortic stenosis, including:
Medicines for short-term symptom improvement
Minimally invasive balloon valvuloplasty to open up narrow valves
Open surgical valve replacement, the most common treatment for aortic stenosis
Learn more about Heart & Vascular Care at MU Health Care.
Related Conditions & Treatments