When you have a heart or lung condition that requires surgery, you need care from an experienced cardiothoracic (heart and chest) surgical team you can trust.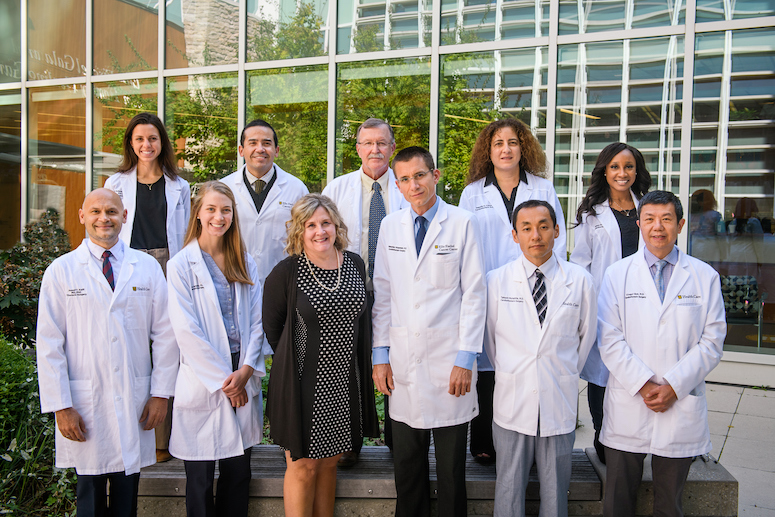 At University of Missouri Health Care, our expert cardiothoracic surgeons provide personalized care and advanced surgical options to help improve your health.
MU Health Care cardiothoracic surgeons performed the first open-heart procedure in mid-Missouri in 1958. Since then, we have continued to provide advanced care, becoming well-known as one of Missouri's most active and respected cardiothoracic referral centers. Every year, our cardiothoracic surgeons perform more than 750 cardiothoracic procedures, offering experience you can trust.
Our expert cardiothoracic surgeons provide comprehensive services, including:
Complete surgical treatment for lung cancer, including laser endoscopy and thoracoscopy
Management of lung and esophagus conditions
Surgeries for lung, chest, heart and blood vessel trauma

Our surgeons perform chest wall surgeries to correct funnel chest, or pectus excavatum, in which a person has a sunken chest.
Endoscopic thoracic sympathectomy for patients with severe hyperhidrosis, or excessive sweating in hands, feet or underarms.

Treatment of congenital and acquired heart defects, including electrical problems of the heart and arrhythmias

Our surgeons perform minimally invasive surgical ablation on eligible patients to surgically treat atrial fibrillation, including the MAZE procedure, which creates a 'maze' of new pathways to let electrical impulses travel through the heart.

Care for coronary artery disease, including coronary artery bypass graft
Leading-edge cardiothoracic treatments
As an academic health center, MU Health Care gives you access to the latest heart treatments. Our physicians and surgeons participate in clinical trials and research that improves cardiovascular care for patients in Missouri and around the world. We're committed to effectively preventing and treating heart and lung diseases.
Our cardiothoracic surgeons perform surgery in advanced hybrid operating rooms. These rooms have the technology and equipment necessary to perform open heart and lung surgeries, as well as minimally invasive procedures. This means you receive the individualized care you need in one location.
Care following cardiothoracic surgery
After your cardiothoracic surgery, you will continue to receive complete care from our team of physicians, nurses and other health professionals. We provide modern, private patient rooms in an environment that helps promote healing.
Following surgery, you will need Cardiovascular and Pulmonary Rehabilitation to rebuild your strength and improve your heart and lung health. MU Health Care rehabilitation teams —including physicians, dietitians and physical therapists — create a personalized rehabilitation program to help you get back to the things you love. You'll receive education about heart health, medicines and diet, as well as participate in supervised exercise. These activities help you increase fitness, improve your quality of life and prevent future heart or lung problems.
Learn more about Heart & Vascular Care at MU Health Care.
Related Conditions & Treatments