Chronic total occlusion (CTO) refers to a complete blockage of one or more of the coronary arteries that supply blood to your heart. These blockages reduce blood flow to the heart, and that can result in chest pain or shortness of breath.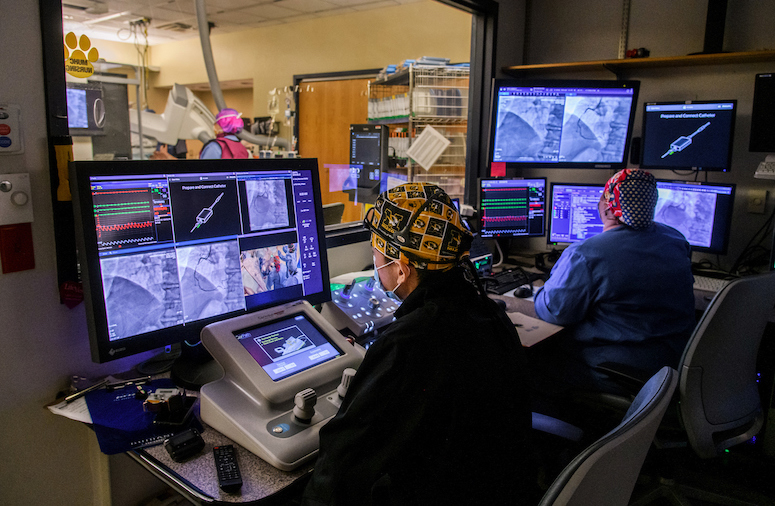 Chronic total occlusion is common in patients diagnosed with coronary artery disease, and it can be improved by removing the blockages and restoring blood flow.
At MU Health Care, we offer a dedicated program for patients with chronic total occlusion. Our team offers an advanced treatment option called percutaneous coronary intervention (PCI), a minimally invasive procedure that uses a small mesh tube to widen and support the walls of the arteries and restore normal blood flow.
Symptoms of Chronic Total Occlusion
Symptoms of chronic total occlusion most often appear during activity, though they can also show up while resting. These are signs you should talk to your doctor.
Chest discomfort (pain, pressure or tightness)
Shortness of breath
Dizziness
Fatigue
Nausea
Pain in the upper body or arm
Diagnosing Chronic Total Occlusion
Risk factors for coronary artery disease and chronic total occlusion include smoking, high cholesterol, obesity, diabetes, high blood pressure and a history of heart attack.
Based on your medical history, our doctors may order a variety of tests to confirm any blockage. These tests may include a coronary angiogram, which uses contrast-dye to take pictures of your coronary arteries. These tests help our experts determine if and where any blockages might exist and develop a personalized treatment plan for you.
Additional testing may include:
Electrocardiogram (ECG or EKG)
Echocardiogram
Stress test
Cardiac MRI
PET scan
Treatment for Chronic Total Occlusion
Our treatment team's goals are to prevent future heart damage and improve your symptoms. Our experts can also provide a second opinion consultation if your provider suggests open heart surgery for a chronic total occlusion. Our doctors will review your medical history and provide a personalized treatment plan for you.
In addition to medications, surgery may be recommended to remove artery blockages. Our fellowship-trained interventional cardiologists specialize in minimally invasive percutaneous coronary intervention (PCI) in which a small mesh tube is used to widen the artery and increase blood flow to the heart.
This procedure is performed in our state-of-the-art cardiac catheterization laboratory that's staffed by expert physicians and staff. With the most advanced technology available, our cath lab allows us to see your arteries and heart chambers to treat any abnormalities, including performing a percutaneous coronary intervention (PCI) procedure.
Patients with severe coronary artery disease who are too high-risk for traditional percutaneous coronary intervention (PCI) or for open heart surgery due to comorbidities may be treatable using advanced technology and techniques. MU Health Care performs minimally invasive procedure with the Rotapro, a special device that removes blockages due to calcium buildup such as rotational atherectomy or laser therapy, as well as an percutaneous hemodynamic assistive device, known as the Impella, to support your heart through the procedure. These advanced technologies provide our experts with greater accuracy for treating chronic total occlusion.
If you have symptoms, such as chest pain or shortness of breath, that limit your day-to-day activities and you've been told that you are too high-risk for surgery or PCI, consider a second opinion consultation at our Heart and Vascular Clinic.
Related Conditions & Treatments