Simple pleasures, like spending an afternoon putting together a jigsaw puzzle, are what Ralph and Lola Humphrey of New Franklin, Missouri, enjoy most. They've been working side-by-side, sorting out life's puzzles for more than 50 years.
One of Ralph's challenges has been intermittent symptoms of a heart problem for nearly 20 years.
"One of the first times I remember feeling off was back in '99," he said. "I was in Cape Girardeau for work, and I suddenly felt very weak. When I got home, my doctor referred me to a cardiologist who did a bunch of tests."
Humphrey learned he had an aortic valve that wasn't working properly and needed a procedure to replace it. But he put off the decision and rarely said a word about his on-again, off-again symptoms.
"For the most part I felt fine," Humphrey said. "Every once in a while I would get that funny, weak feeling. But it would go away in a few minutes, and I'd go back to my work and playing golf. I felt good, so I didn't think I needed to have a procedure."
Time went by, bringing new challenges, including Lola's lung surgery in the fall of 2018. Their closest nephew, Larry Humphrey, was helping Lola with her recovery when Ralph's symptoms suddenly struck again. This time they were worse than before, and Larry was there to see it. Ralph was short of breath, his heart was racing and his arms felt numb and tingly. Larry immediately called 911.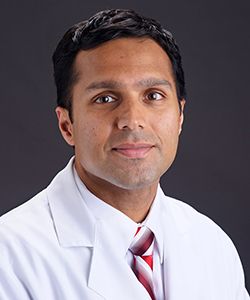 Humphrey spent several days at MU Health Care's University Hospital with congestive heart failure. Arun Kumar, MD, an interventional cardiologist, told Humphrey he couldn't wait any longer to have his valve replaced. He scheduled a procedure called transcatheter aortic valve replacement (TAVR).
"When a patient needs a TAVR, it may take several weeks to perform the necessary tests and prepare to customize the surgery for each individual patient," Kumar said. "In Ralph's case, we did all the necessary planning, we just expedited it so he could have the procedure as soon as possible."
TAVR is a catheter-based procedure that is perfect for older patients who are not good candidates for open-heart surgery. A cardiologist and cardiac surgeon combine their skills to thread a catheter tipped with a collapsible replacement valve to the patient's heart to replace the faulty valve. The most common route used to reach the heart is the femoral artery in the groin. But for some patients, such as Humphrey, that isn't the best choice.
"There are many ways we customize TAVR procedures for each of our patients," Kumar said. "We have both FDA-approved brands of TAVR valve devices available. Each brand has four different valve sizes to choose from, based on the size of the valve we are replacing. We also have the ability to choose from among several different arteries to reach our patient's heart. We assess all of our options and always choose the route that will be the easiest and most direct."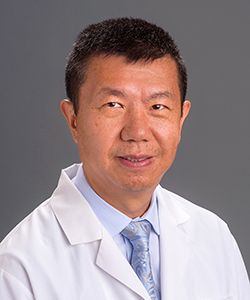 In Humphrey's case, Kumar and Xingyi Que, MD, a cardiothoracic surgeon at MU Health Care, decided to use the carotid artery. That meant they would thread the catheter through Humphrey's neck instead of his groin. This novel approach allowed MU Health Care's TAVR team to most easily replace the heart valve. Humphrey headed back home in just a few days.
"Ralph did remarkably well," Kumar said. "He was looking good, feeling good and was even up moving around the very next day."
Humphrey said he was sore for about a week after the surgery. The only drawback of the unique TAVR approach? He had to shave his goatee and mustache. Lola said she was happy to see them go. Best of all, his health was back on track.
"I feel great," he said. "I haven't had those symptoms come back once since my surgery. I'm ready to get out there and play golf."
Now that his heart problem is fixed, he can look forward to spending many more years with Lola, solving puzzles wherever they find them.