Zhenguo Liu, MD, PhD, grew up in a tiny Chinese village of about 50 people, where his family lived off the rice and vegetables it grew on a small farm. Modern medicine played little role in the villagers' lives.
It was an unlikely launching pad for an international expert on heart disease.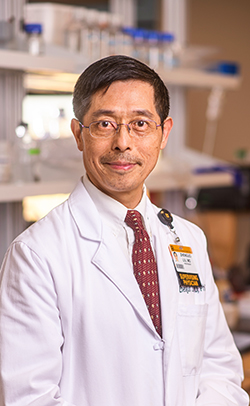 "Not many people sought medical attention there," Liu said. "People would die for unknown reasons. They would just be gone. Nobody would know why."
He could have been one of them. As a teenager, any physical activity — even a brisk walk — left him breathless. For someone who had to walk two hours to another village to attend high school, it was a major problem. By the time Liu saw a doctor and was diagnosed with anemia, the amount of oxygen-transporting hemoglobin in his blood had dropped dangerously to one-third the normal level.
That health scare sparked in him an interest in medicine that ultimately led halfway around the world. In November 2017, Liu took over as the chief of University of Missouri Health Care's Division of Cardiovascular Medicine. Liu established the goal to expand MU Health Care's capability to treat patients with even the most complex heart conditions and to elevate the cardiovascular research program.
As an academic health system, MU attracts leaders in their field with a passion for research that translates into better patient care. Since Liu arrived, MU Health Care has added six cardiologists and can now perform almost any heart procedure except a transplant.
"We provide all services in cardiovascular medicine," Liu said. "We do not have to send patients out to St. Louis or Kansas City for complex procedures. We're able to do it here."
Liu, who spent 13 years at Ohio State University before coming to MU, plays an important role in four active projects that are funded by the National Institutes of Health. He is the principal investigator on two and the co-investigator on the other two. All of them are R01 grants, the major research awards issued by the NIH.
"To get an R01 grant, you have to be doing some important research. To get multiple R01s, that's off the charts," said MU Health Care interventional cardiologist Arun Kumar, MD. "That really raises the portfolio and says the MU cardiovascular program is the real deal.
"There are a lot of connections between leading-edge research and great patient care in the clinic. It leads to an emphasis on evidence-based medicine when you've got researchers who are really in tune with contemporary practices."
In the clinic, Liu is an electrophysiologist — a cardiologist who works on the heart's electrical system — and his primary niche at MU Health Care is implanting pacemakers and other devices in patients with heart- rhythm problems. In the lab, Liu is studying heart disease on the front and back end in ways that could directly help patients.
His ultimate goal is to define the important causes of atherosclerosis, the hardening and narrowing of arteries that restricts blood flow and leads to heart attacks and strokes.
"The majority of the population is going to have atherosclerosis," Liu said. "We know lipids, diabetes and smoking are not good things, but even though we control those conditions, people still develop atherosclerosis. Why is that? One of my projects is to address the question why people develop this condition. If we find the factors that contribute to this disease, we can eliminate those while they're at the reversible level. That would change everything."
Liu is studying air pollution's effect on atherosclerosis and trying to isolate which air particles are harmful to heart health. He also is exploring the link between heart disease and the bacteria in the gastrointestinal tract. He thinks this link could explain why young people sometimes develop cardiovascular diseases.
On the back end of the problem, Liu is exploring ways to regrow heart tissue after a patient has suffered a heart attack. The areas of the heart damaged by a heart attack do not naturally regenerate, leaving the muscle weakened forever. However, Liu is exploring whether adult stem cells — which are found in bone marrow and many other organ systems — can rebuild heart muscle or new blood vessels.
"For the last 10 to 20 years, a very active area is to find a way to regenerate heart muscle," Liu said. "Lots of work has been done, but more studies are needed to find the effective ways to regenerate heart muscle and make it functional again."
From growing up on a family farm in a tiny Chinese village to trying to conquer one of the world's deadliest diseases, Liu has come a long way. His motivation is to help people live longer and healthier lives.
"Patients deserve the best," Liu said. "If we don't provide the best, we're not doing our job. That's always my philosophy. And I like to do research so I know what's the best and what's coming 10 or 20 years from now. If you do really good research, you can change the whole field. That is my vision."