Dean Bell, 67, is retired, but he isn't ready to slow down. In 2018, Bell moved to Columbia to be near his stepson, and he jumped right into remodeling his new home and volunteering at MU Health Care's University Hospital.
Used to being on his feet, he would walk seven miles during a four-hour volunteer shift. But it was a moment of rest that led to his hospitalization.
On Sept. 11, 2019, Bell sat down at the front desk at 8 a.m. to plan his day. When he got up to start checking off his to-dos, he passed out and fell to the ground. When he regained consciousness, he wanted to continue working, but his coworkers convinced him to go to the emergency room. While in the ER, Bell passed out again and was rushed to the cardiovascular intensive care unit (CICU).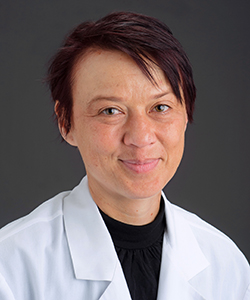 Christina Danila, MD, cardiovascular disease physician, diagnosed Bell with "heart block." It's a condition in which the heart stops beating because the electrical signals that make the muscle contract are blocked from the upper chamber of the heart. Because Bell's heart couldn't maintain adequate electrical connection between the chambers to support the blood supply to his body, he needed a pacemaker.
"I had been passing out for over 20 years," Bell said. "My wife always thought I fell asleep easily when sitting in a chair. I never realized it was actually because of a heart condition."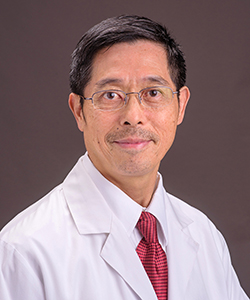 Electrophysiologist Zhenguo Liu, MD, PhD, implanted the pacemaker, a silver dollar-sized device that sits under Bell's collar bone. Bell needed a two-lead pacemaker that connected to both chambers of the right side of his heart to regulate the contractions of the upper chamber (atrium) and the lower chamber (ventricle). After an overnight stay in the hospital, he was released the next morning.
"The pacemaker acted as a bridge to make the two chambers communicate," Liu said.
Liu said people who need pacemakers often do not realize it. Symptoms include fatigue, dizziness, shortness of breath and, in dramatic cases like Bell's, loss of consciousness. Liu encourages people feeling those symptoms to speak to their primary care physician who can make a referral to MU Health Care's Heart and Vascular Center.
"I perform an electrical analysis, which includes an EKG, and a stress test to measure heart rate," Liu said. "Age is an important factor for arrhythmia, but it could occur at any age. Signs of heart issues aren't always as simple as chest pain."
Liu said Bell's condition can be caused by many factors, including genetics, which may explain why Bell's sister also has a pacemaker. With the help of his pacemaker, Bell now has a normal heart rate, which gives him more energy overall.
"I felt 10 years younger after the procedure," Bell said. "I was ready to get back to volunteering the next day, but they made me take a week off to recover."
Bell is grateful for the treatment he received at MU Health Care and even visits his care team now and then during his volunteer shifts.
"I call that my heart floor," Bell said with a laugh. "The best nurses and doctors of the whole world are in the MU HealthCare University Hospital."