Dennis McCollough, a recent retiree, spent most of his career working as a printer for publications such as The New York Times. The printing business is all about timing. Even the smallest delay could prevent customers from receiving their paper on time.
One July morning while cleaning his gutters, McCollough suffered a heart attack. Once again in his life, timing was everything.
McCollough and his wife, Amy, moved to Sedalia, Missouri, from Florida last May. He had just retired and was looking forward to spending more time with his five grandchildren. McCullough, 66, had no history of heart trouble and had visited his primary care physician regularly.
He doesn't recall anything about the incident, but his wife remembers every moment. He was standing on a deck chair cleaning the gutters one moment, and the next instant she heard a bang and found him lying on the deck with a broken chair behind him.
"I kept telling him to lay still while I called 9-1-1," she said. "Then, all at once, he stopped breathing. It was so quiet that you couldn't hear."
Immediately, Amy McCollough sprang into action. Dennis was pulseless. She called the Sedalia Police Department and began giving her husband a hard, steady beat of chest compressions and mouth-to-mouth resuscitation until the police arrived. Her previous job had required her to be CPR-certified every year, so she knew what to do.
McCollough gasped a couple of times but never came to. Police arrived two minutes after receiving the call, and the paramedics arrived just two minutes after that. The police took over CPR for her. Once the paramedics arrived, he was found to be in a cardiac arrest and was cardioverted multiple times, the focus was getting McCollough to a hospital fast.
Officer Larry Parham, of the Sedalia Police Department, was one of the first responders. "Everybody jumped in and did the work," he said. "We were talking with the family and gathering information while paramedics were preparing the patient for travel so we could improve his chances of survival."
McCollough, who had suffered two broken ribs when he fell, was airlifted to MU Health Care's Level 1 trauma center. He suffered a cardiac arrest twice and had to be defibrillated twice in the air on the way to Columbia.  Once he arrived, he was placed in the cardiac intensive care unit (CICU) and waited for five days until he was stable enough for surgery.
Ashraf Abou el ela, MD, a cardiothoracic surgeon, performed McCollough's coronary bypass. Christina Danila, MD, and Hemant Godara, MD, fit McCollough with an automatic implantable cardioverter-defibrillator (AICD). The AICD acts like a pacemaker and defibrillator, delivering electrical shocks to the heart when it senses life-threatening changes in the heart's rhythm.
"I have to give credit to the Sedalia police department, Sedalia EMS, Air evac life-team, ICU nurses, physician assistants, nurse practitioner, the ICU team and the cardiology team," Abou el ela said. "Everybody just did his or her part, and it all came together."
McCollough's situation was highly time-sensitive, and he was saved thanks to a perfect demonstration of the chain of survival. The American Heart Association identifies six steps that should be taken to help people in cardiac arrest to give them the best chance of survival: early intervention, access, CPR, defibrillation, advanced cardiac life support and post-resuscitation care. All six steps were quickly exemplified to save McCollough.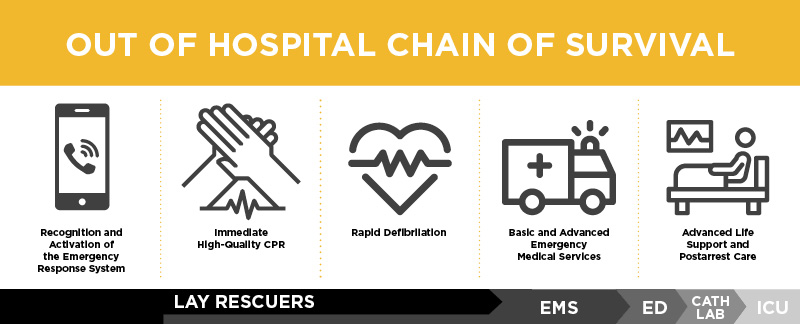 The Sedalia Police Department, the Sedalia EMTs and the MU Health Care team all played a role in the positive outcome for McCollough, but it was his wife's quick action that made it all possible. Calling for help and performing CPR on her husband is what gave him a fighting chance at survival.
Amy believes everybody should learn CPR.
"It should be a part of your schooling," she said. "If you could just do the compressions to keep that blood pumping and to keep the oxygen it could make a difference."
Abou el ela encourages everyone to learn hands-only CPR. "It comes down to two simple steps: Call 911 and then push hard, push fast on the center of their chest until help arrives."
Dennis and Amy McCollough are grateful that the timing worked so well. They looked at each other warmly, years of memories between them, as they began discussing plans to spend time with their grandchildren. Three of them live in Sedalia, and two live in Florida.
"The grandkids from Florida have never seen snow, so we can't wait for them to come up here in the winter," Amy said as her eyes welled up with tears. "We have a lot of good things going on."
McCollough continues to recover with cardiac rehab at Bothwell Regional Health Center in Sedalia and has continuous follow-ups with the Cardiovascular team at MU Health Care.