A healthy heart has no problems pumping blood efficiently. However, certain conditions can weaken or stiffen your heart, making it unable to pump as much blood as your body needs.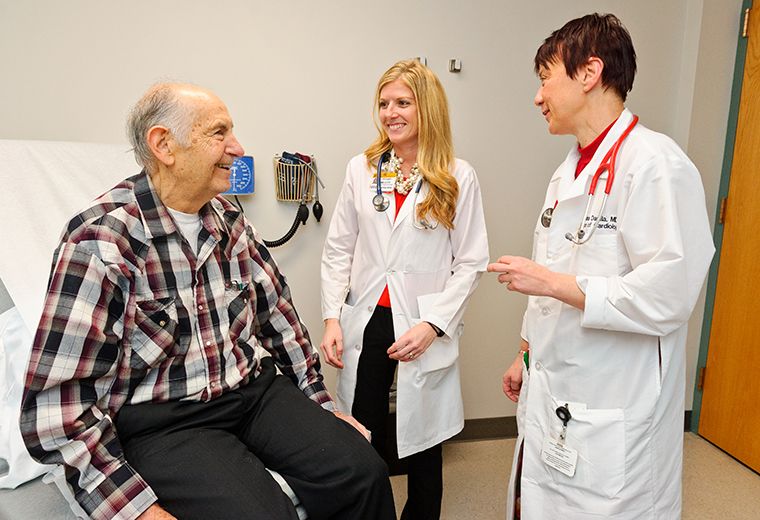 When your heart is too weak to work correctly, you have a condition called heart failure. At University of Missouri Health Care, our expert cardiologists provide comprehensive treatment, improving your heart's function and extending your life.
As a patient in an academic health center like MU Health Care, you have access to advanced medicines and treatments for heart problems. Our physicians are actively involved in research and clinical trials, helping you get individualized care based on the latest medical evidence and breakthroughs.
Symptoms and risk factors for heart failure
Some preexisting heart conditions can put you at risk for heart failure. It's vital that you work with your physician to treat and manage these conditions to keep your heart as healthy as possible.
Conditions that put you at risk include:
Diabetes
High blood pressure
Sleep apnea
Certain medications, being obese or drinking too much alcohol may also raise your risk of heart failure.
If your heart does start to fail, you may notice some early symptoms such as:
Pounding or racing heartbeats (palpitations)
Tiring easily
Trouble breathing when you exercise or lie down
Weakness or dizziness
If you experience these symptoms, you should talk to your doctor. Without treatment, it will continue to get worse.
Symptoms include:
Bloating and/or nausea
Coughing or wheezing when you lie down
Frequent urination, especially at night
Swelling (edema) in your legs, ankles and feet
Unexplained weight gain
Diagnosis and treatment of heart failure
If you have risk factors and/or symptoms of heart failure, your physician may order tests in order to see how your heart functions.
You may need a combination of tests, which can include:
Blood tests
Cardiac catheterization
Cardiac MRI Chest X-ray
Echocardiogram (heart ultrasound)
Electrocardiogram (EKG or ECG)
Magnetic resonance imaging (MRI) stress test
Stress test
At MU Health Care, we offer advanced cardiac imaging to diagnose heart failure and other conditions. We offer the latest radiation-free heart imaging techniques, such as cardiac MRI or MRI stress test, to reduce your exposure to radiation while accurately diagnosing your condition.
Our specialists use a team approach to help reverse or improve heart failure. Our cardiologists, cardiothoracic surgeons, nurses and other health care professionals guide you through treatment, ensuring you receive personalized care for all your needs.
Our specially trained cardiologists have years of experience caring for patients with heart failure and offer treatments such as:
Medicines and lifestyle changes
Medicines to control blood pressure, heart rhythm or other factors can help your heart work more efficiently. Your physician may prescribe these medicines along with lifestyle changes — such as exercising more, reducing salt intake and losing weight — that can improve your heart's function.
Implantable pacemaker or defibrillator
If your heart failure is caused by an irregular heartbeat, an implantable pacemaker or defibrillator can help keep your heart in rhythm. These devices give your heart a small shock when it gets out of rhythm, helping regulate your heartbeat. At MU Health Care, we offer a leadless pacemaker, the latest in implantable pacemakers, that may work more efficiently and pose fewer risks than other pacemakers.
Minimally invasive heart valve surgery
When heart valves do not work correctly, they can also cause heart failure. MU Health Care interventional cardiologists offer minimally invasive heart valve repair or replacement, helping reverse heart failure by improving valve function. These advanced, minimally invasive procedures have fewer risk factors and a faster recovery time than other surgeries.
Learn more about Heart & Vascular Care at MU Health Care.
Related Conditions & Treatments