Against her better judgment, Ginger Mangan accepted her uncle's invitation to meet a young musician named Tom who would occasionally sit in with his country music band. That uncle turned out to be a better matchmaker than she thought. Ginger and Tom hit it off, danced all night and started dating. Against the advice of both of their families, who thought they were too young, they got married at age 19.
After 55 years of marriage, it's safe to say their relationship has outlasted those early doubts. These days, the residents of Holts Summit, Missouri, have slowed down a little — Tom's weekly gig is playing the electric bass during Sunday services at their church — but they still want to stay active.
The Mangans have more energy since getting their atrial fibrillation (AFib) under control. And they have more peace of mind about their health after undergoing a procedure at MU Health Care that reduces their risk of AFib-related stroke.
"I probably feel 20 years younger than I did last year," Ginger said.
AFib is the most common heart rhythm disorder. The upper chambers of the heart — the atria — quiver rapidly, which can lead to blood pooling in the heart. If a clot forms, it can travel to the brain or other vital organs, with devastating consequences.
People with AFib are often prescribed blood thinners to prevent clots, but some — including Tom and Ginger — don't tolerate the medication for various reasons, including the risk of excessive bleeding. Ginger said her arms were often covered in bruises, because even slight contact caused internal bleeding.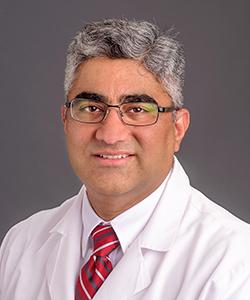 "I always looked like I had been in a fight," she said.
For people like the Mangans, MU Health Care offers a left atrial appendage (LAA) closure procedure using a device called Watchman™. The LAA is a small pouch connected to the upper left chamber of the heart where blood can pool and potentially form clots. Hemant Godara, MD, an electrophysiologist — a cardiologist who specializes in the heart's electrical system — said 90% of AFib-related clots originate in the LAA.
At MU Health Care, Godara and fellow structural heart specialist Chirag Bavishi, MD, work together to perform the LAA closure procedure. They insert a thin tube into the femoral vein in the groin and thread it to the heart with the guidance of ultrasound and X-ray imaging. The Watchman™ device is delivered through the tube and placed in the mouth of the LAA to seal it off.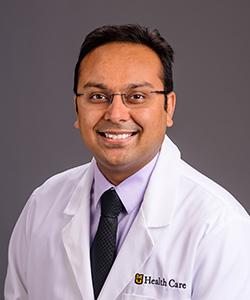 After six weeks, patients have a follow-up visit to undergo a special ultrasound to make sure there is no leak around the device and the heart's lining has grown over the device, forming a solid barrier. At that point, patients take aspirin and a mild blood thinner for 4½ months. Then they can stop taking blood thinners altogether in six months and continue with lifelong aspirin therapy.
Godara sees patients one day a week at Jefferson City's Capital Region Medical Center, and that's where he met Tom and explained how the procedure could help him. Tom agreed and had the procedure in 2020.
"The Watchman gives you security," Tom said. "Before, you're sitting there thinking about the possibility of getting a clot."
Although Ginger was excited to see her husband's quality of life improving, she was concerned that her own was deteriorating. AFib was causing her to tire so easily that she had to give up her job as a real estate agent. On family vacations to the beach or mountains, she stayed behind while Tom had fun with their children and grandchildren.
"I would be so tired that I would go back to the car and sleep," she said. "It was like I had no energy."
Ginger met with Godara and found out she, too, was a candidate for Watchman. But first she needed to get her AFib under control. In the early spring of 2022, Godara performed an ablation procedure, using a catheter with a radiofrequency tip to scar parts of the heart in order to control the abnormal electrical signals. Five weeks later, Ginger was back at MU Health Care to have the Watchman™ implanted.
Since having those procedures, she's been able to return to work and become more active again.
"If we can make a difference where they don't have to be afraid of doing what they love to do, whether it be a job or hobby, or going outside without having to worry about whether they're going to fall or have an accident and have a bleed, I think these are all positive changes for the patients so they can live their lives to the fullest," Godara said.