With more than 40 years of experience with horses, Lisa Wieberg of Argyle, Missouri, was no rookie when she had her first horsing accident in October 2015. The experience, though, nearly cost Lisa her life.
She was more than 100 miles from home, spending the weekend with fellow horse enthusiast friends in Eminence, Missouri.
"By some form of a miracle, there was a doctor there riding that day," Lisa said.
Moments after settling into the saddle atop Dallas, her five-year-old quarterhorse, he panicked by what Lisa can only guess was a medical crisis and flipped over backward. Still in the saddle, the 1,500-pound horse fell on Lisa a second time, stepping on her as he tried to stand up. In a matter of seconds, both of Lisa's lungs were punctured and she sustained 13 broken ribs and multiple pelvic and spine fractures.
Michael Lindstrom, DO, a family medicine physician from Rockford, Iowa, was nearby. Grabbing an oxygen mask from his truck, he attended to Lisa until an ambulance arrived and transported her to Poplar Bluff, Missouri, an hour away.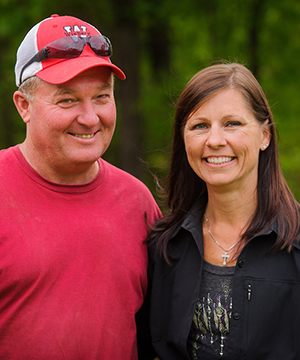 She remembers the painful feeling as if one of her ribs was poking into her heart. She wanted to roll over but the pain in her hips was too excruciating.
At Poplar Bluff Regional Medical Center, the team determined that she needed the highest level of trauma care possible due to the extent of her injuries. She was flown to University Hospital, home to a Level I trauma center for patients with life-threatening injuries. The trauma team in Columbia, Missouri, was ready for Lisa when she arrived at MU Health Care's Frank L. Mitchell Jr., MD, Trauma Center.
"The staff was excellent," said Leroy Wieberg, Lisa's husband of 28 years. "They explained everything. They told me what they were going to do and answered all my questions. They were really nice. It was like we were hurt – they were always asking us family members if they could get us anything."
Lisa said the presence of her friends and family — including three children and two grandchildren — helped keep her spirits up.
"Seeing her with all the tubes and monitors hooked up to her was the hardest thing I've ever had to do," said Jena Wieberg, 18. "I remember thinking, 'this can't be my mom. This would never happen to someone so strong and brave as her.' She looked so different. Her body didn't lie right because of her injuries."
Lisa was on a ventilator to assist with her breathing. She underwent three orthopaedic surgeries led by Gregory Della Rocca, MD, to address her pelvic and spine injuries.
"My nurses really made a difficult time easier," Lisa said. "I cannot thank them enough. They kept me going."
Lisa was a patient at University Hospital for two weeks, followed by one week at Rusk Rehabilitation Hospital, an affiliate of Encompass Health and MU Health Care, in Columbia for intensive rehabilitative therapy. She returned to her home in Argyle in a wheelchair and with crutches. She underwent physical therapy sessions at home for three additional weeks. In November, she returned to Columbia for one more surgery on her left leg. After her follow-up visit in December, she was able to trade her crutches for a walking boot.
By the spring, Lisa started easing back into activities she enjoys, including biking and, of course, riding horses. She continues to work at the Department of Revenue in Jefferson City and enjoys spending time with her family.
"Thanks to the staff at MU Health Care, I got my mother back and nothing makes me happier," Jena said. "I am truly blessed. Just when I lost hope, I found help at University Hospital. They didn't just save my mother, they saved me and the rest of my family.