The sticky center of Vinita Taylor's family celebrations is often a fresh batch of Rice Krispies treats. In her hands, the combination of cereal, marshmallows and butter becomes a heavenly confection that draws people into the kitchen.
"It sounds crazy, because it's just Rice Krispies treats, but her Rice Krispies treats are amazing," said her daughter, Heather Taylor.
For years, Vinita ran T&T Catering in Springfield, Illinois, in addition to her full-time job at State Farm Insurance. She considered catering a labor of love. She enjoyed strolling the aisles of grocery stores to find inspiration, tinkering with recipes in her kitchen and then adding the final flourishes.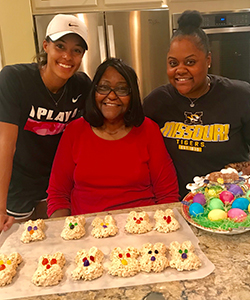 "You cut the tomatoes and radishes just so, and you arrange the parsley and leaf lettuces just right on the trays," she said. "It's all about the presentation."
It seemed nothing could temper Vinita's joy of cooking, but in April 2016, a hairline fracture in her foot required her to wear a walking boot. Her altered stride led to severe back pain.
"She was hunched over, walking like a 90-year-old, and she was in her late 50s," Heather said.
Vinita was diagnosed with a degenerative disc in her lower back. She had spinal fusion surgery in September 2017 at a St. Louis hospital. Unfortunately, the surgery made matters worse, as her pain persisted and started shooting down her right leg. She couldn't stand or walk for extended periods. She couldn't drive because she couldn't feel the pedals. She had to give up catering.
Heather said her easygoing mother rarely complained, but she was in so much pain that she was unnaturally pale, like someone with a terminal illness. Vinita's surgeon kept saying she was getting better, but she and her family weren't sure they were getting straight answers.
Vinita's brother, Bill Roundtree — a University of Missouri basketball player in the 1980s — lives in Columbia. He heard good things about spine surgeon Ted Choma, MD, of MU Health Care's Missouri Orthopaedic Institute. Vinita needed to find a doctor with the skill, experience and access to innovative technology to fix her back. She also needed to find a doctor she and her family could trust.
She found both in Choma.
When he examined her X-rays in January 2018, Choma immediately saw the problem. The fusion surgery had gone wrong. Her L5 vertebra — the lowest bone in the lumbar spine — was broken in half. It was bad news, a diagnosis that ultimately would require two more surgeries, but Choma's approach gave Vinita confidence he could help her.
"His bedside manner, his explanation about what he's doing, it made me feel at ease," Vinita said. "When my family had questions, he didn't hesitate. My family talks about him to this day. The fact he took the time to draw a diagram of what he was going to do and explained it to them, they were so impressed."
In most cases, an experienced spine surgeon can use visual landmarks on the vertebra to know the spot and angle to insert screws into the bone without damaging the spinal cord or the nerves branching off it. But when a patient has had a major surgery that alters the natural anatomy, those landmarks are no longer reliable.
MU Health Care has a solution for these challenging surgeries. It's called a mobile intraoperative CT scanner. For spine procedures, it allows surgeons to get real-time 3D scans of their patients so they can precisely implant screws to stabilize the bones.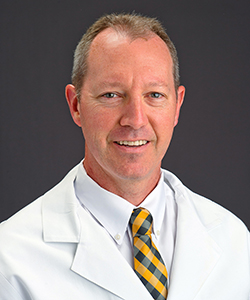 "In an academic medical center, we take the hardest cases," Choma said. "This is where the complicated stuff happens. You don't need this technology to do straightforward spine cases, but this technology allows us to take care of these really complicated, risky cases with a new level of confidence and safety. There's nothing else like it."
In a span of 13 months, Choma performed two surgeries to fuse Vinita's L4, L5 and sacrum — the triangular bone at the base of the spine. Her most recent surgery was in March 2019.
"I feel 100 percent different after this surgery," Vinita said. "I was up and walking much sooner. I can turn over and sleep on my side and not feel any pain. I can stand up. I can tap my foot on the floor and not feel any pain."
Vinita, who is retired, moved to Columbia with her daughter in December 2018. She enjoys being near her brother and his wife, Teana Roundtree, and getting to watch her niece Jordan Roundtree play for the Missouri women's basketball team. And her family gets to enjoy her cooking again.
A month after her last surgery, she felt good enough to resume her duties for an Easter celebration. That included a batch of a certain crowd-pleasing treat.
"She was able to stand up and cook and carry on that tradition of making Rice Krispies treats with us this year," Heather said. "It felt really good to have her back in the kitchen."