By chance, James Stannard, MD, and Suthorn Bavonratanavech were seated at the same dinner table during an international orthopaedic conference in December 2015 in Switzerland. Suthorn, a prominent surgeon in Thailand, made some small talk with his American counterpart.
"I said, 'Jim, at my hospital we're going to build a building that will be focused on orthopaedic surgery for all the specialties. Do you know of any place like this in the U.S.?' " Suthorn recalled.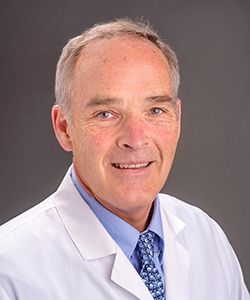 Stannard not only knew of one, he ran one: the Missouri Orthopaedic Institute. What Stannard didn't realize was that Suthorn wasn't just representing a Bangkok hospital, but rather Bangkok Dusit Medical Services (BDMS).
"It turned out his company was the fourth-largest hospital chain in the world with 46 hospitals," Stannard said. "I had no idea it was more than a single hospital."
If neither man knew quite who he was dealing with initially, they began a fruitful partnership built on an open exchange of information and ideas. MOI became the model for the new BDMS orthopaedic center, which is slated to open in early 2019.
After Suthorn accepted Stannard's invitation to visit MOI, he was immediately impressed by the itinerary — a three-day program packed from morning to night.
"I showed it to my boss, and he read it and said, 'Do you have time to rest?' " Suthorn said with a laugh. "It was fully packed. But that was fine with me because I wanted to learn everything I could in these three days."
After his busy tour, Suthorn was sold.
"I sent an email to my CEO and the chief of the medical staff and told them, 'This is the place. I can learn almost everything here — the management system, the leadership system, the organization of the departments divided into different specialties, the nursing system. It's all in one place. I don't need to go to different places to get different things,' " he said.
"Everyone at MOI was very generous. Whoever I talked to, they said, 'If you need more information, let us know. If you need some documents, we can give them to you.' "
In the last 2½ years, delegations from MOI including Stannard, Executive Director Bob Schaal, Director of Nursing Angela Story and Manager of Support Services Wes Sconce have traveled to Bangkok to train and advise BDMS employees as they prepare to launch the new orthopaedic center. Stannard has become a frequent invited guest speaker at orthopaedic conferences in Thailand, and he and his wife have fallen in love with the country, its culture and its food.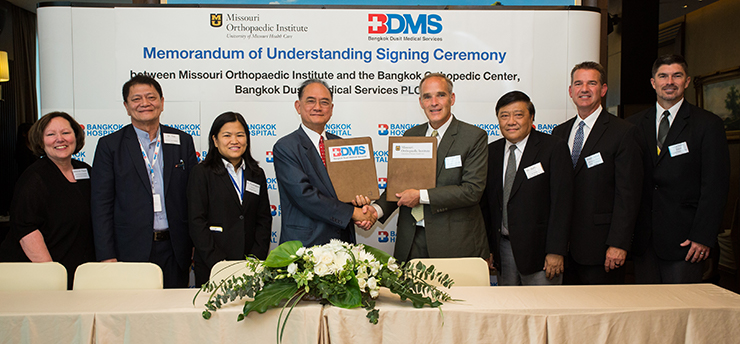 Meanwhile, Thai orthopaedic surgeons Pat Laupattarakasem and Chaiyapruk Pundee are in Columbia serving one-year fellowships. They have quickly assimilated.
Chaiyapruk, who is better known around the Missouri Orthopaedic Institute as Bert, has joined a group that runs on the wooded trails around Columbia. He is an eager student of American football and sat alongside new friend Ted Choma, MD — both are spine specialists and former military flight surgeons — in the stands at the Tigers' 2018 season opener. Pat, who specializes in sports medicine, has become a regular in a weekly Sunday soccer game at Cosmo Park.
They spend their work hours observing surgeries and assisting MU doctors with research. Pat is using a motion-capture device to record the range of motion of college athletes in an attempt to predict and prevent injuries. Chaiyapruk is studying biomarkers for clues to spine degeneration. Both are grateful to have more time and resources to devote to research than they normally do as practicing surgeons. Both plan to continue their collaborative research with MU doctors after returning to Thailand.
"It is good that someone pushes me," Chaiyapruk said. "Like if you are a parachute jumper, you don't jump by yourself. Someone kicks you out of the plane. And in this situation, the jump master is MOI."
There are some fundamental differences in the American and Thai health systems that prevent completely replicated business models. Schaal said a far greater proportion of an American hospital's budget is devoted to labor compared to Thailand, where the wages are lower. Thai hospitals require more beds than American hospitals because outpatient surgeries are rare. But there are lessons MU Health Care can learn from BDMS, which attracts patients from across Asia and the Middle East.
"The whole medical tourism thing, we've always thought we could learn from them and apply it to a program like BioJoint," Schaal said, referring to the biological joint transplant procedure that has drawn patients from other countries to Columbia.
A random conversation in Switzerland led to a partnership that could benefit both health systems.
"We feel like this facility has really worked well," Stannard said. "Sharing our experience, there's really no downside. In some ways, it helps to enhance our big-picture reputation. There are a lot of people in the Asia-Pacific region that know about MOI right now. Suthorn has such a broad reach over there, we're pretty well known. And that wouldn't have happened without our relationship."