When Sarah Mahnken learned she was pregnant with her first child, the Fulton resident assumed she would need to drive to Columbia for appointments. As it turned out, she and her husband Patrick were already seeing a family medicine doctor in their hometown who could provide prenatal care and even deliver the baby.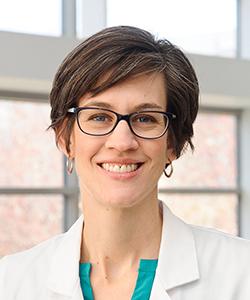 "A lot of my patients think they need to go see a different doctor or a specialist when they get pregnant or are diagnosed with a condition like high blood pressure or diabetes," said Laura Morris, MD, who practices at MU Health Care's Family Medicine-Callaway Physicians clinic. "We are trained to provide a wide spectrum of care, including routine prenatal care and pediatric care once the baby is born."
Family medicine doctors offer convenience and continuity, especially for rural residents such as the Mahnkens.
"Dr. Morris' office is three minutes from where I worked," Sarah said. "I didn't need to take an entire day off for my prenatal appointments. Also, by the time I got pregnant, I had already been seeing Dr. Morris for a few years. She was well aware of my medical history, and we had a great bond."
This familiarity is helpful for family medicine doctors when they care for pregnant patients and their babies.
"There is no substitute for this type of relationship," Morris said. "When you are already comfortable with each other, it is a lot easier to communicate. Since we know the mom's health history very well, we can better assess her risk factors for common issues like gestational diabetes and post-partum depression. Then, after the baby is born, appointments can become merged visits where we discuss the mom's status and the baby's status at the same time."
The Mahnkens were excited to learn Morris could care for Sarah throughout her pregnancy in Fulton. They would only need to drive to Columbia to deliver the baby at MU Women's and Children's Hospital.
In August 2011, their daughter Racie was born. Since then, Racie has gained two sisters: Axlie and Wynlie. Morris cared for Sarah during each pregnancy, and she continues to provide primary care to the entire family.
"We've had nothing but good luck with Dr. Morris," Sarah said. "We see her for absolutely everything. She's very caring, very intelligent and very passionate about her job."