Until last summer, Duane Cooper rarely slowed down. When the 48-year-old Boonville resident wasn't working at his full-time job, he was busy operating his lawn mower repair business or doing projects around his house.
But one morning this past July, he woke up with a fever and shortness of breath. He went straight to get tested at the MU Health Care drive-thru testing site and was diagnosed with COVID-19. Although his fever broke within a few days, Cooper is still feeling the effects of the virus.
"I just want to get back to normal," he said. "Being short of breath after exerting the smallest amount of energy is aggravating and hard to deal with. I haven't been able to do work around the house or touch my lawn mower repair business."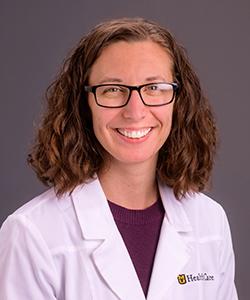 MU Health Care offers the full spectrum of care for COVID-19 patients, from testing to in-patient treatment, as well as physical and occupational therapy to help in recovery. Cooper's family medicine doctor, Ashley Millham, MD, has been more than just his physician during his illness. She's helped him navigate the system to get the care he needs. She even called his employer to ensure he wouldn't be expected to return to work before he was ready.
"I stay in contact with her and have seen her three or four times since my quarantine ended," Cooper said. "When I have a problem or question, she always does whatever she can to respond quickly. She takes pride in her work, and it shows. I'm so thankful for her."
COVID-19 varies in its symptoms, severity and duration. For Cooper, the biggest issue has been lung problems. After doing something as simple as washing dishes, he finds himself gasping for air.
"Symptoms can linger even after the infectious period is over," Millham said. "Although he never required hospitalization, Duane's oxygen levels were very low. I've been working with him on breathing treatments to get those levels back up."
Every day, Cooper records his oxygen levels using a pulse oximeter, a small device that clips onto the finger. It measures how well oxygen is binding to red blood cells. Healthy oxygen levels are typically at least 95%.
"My levels are at 89% or 90% most days," Cooper said. "They've been as low as 84%, but one day I did get up to 94%. I record it every day so I can report back to Dr. Millham."
He uses a nebulizer four times a day to provide relief from lung inflammation. He also uses an inhaler at least twice a day and carries one with him at all times.
There are many COVID-19 patients such as Cooper who are struggling with lasting effects of the infection. Millham is concerned about people who don't know where to turn for help. She stressed that developing a trusting relationship with a primary care doctor is instrumental to long-term health.
"Many people are delaying care for COVID issues, which only decreases the odds of surviving," Millham said. "They may be concerned about the cost or don't have a regular doctor, so they don't know what to do."
Millham is based at MU Health Care's new Battle Avenue Medical Building, which opened Dec. 7. The new location will increase access to quality health care for patients like Cooper, who is still trying to get back to normal after his bout with COVID-19.
After 14 weeks of leave, he went back to work. He is incredibly grateful that his employer was supportive as he battled the illness. He has concerns about contracting the virus again and wants the public to take the pandemic seriously.
"It's not a hoax, and this isn't a joke," he said. "I wish people would wear their masks, because I don't wish this on anyone."