Farming chores are nothing new for Luke Brown, 20, of Auxvasse, Missouri.
"I'm a good old country boy," he said.
Luke had cut trees with his father, Jim Brown, dozens of times when a logging accident nearly ended Luke's life on Valentine's Day 2014.
Luke was a lookout for his father in a neighbor's forest when a 10-foot branch struck Luke. The branch hit Luke on his head, and he immediately collapsed, unconscious. He came to in a couple minutes.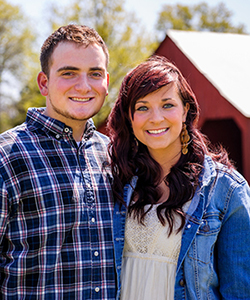 Jim worked fast to help Luke. He laid his son flat in his pickup truck. He called 9-1-1, and an ambulance was dispatched to the nearest gas station, where the EMS crew met them, about 15 miles from the accident site.
Meanwhile, University Hospital's team at the Frank L. Mitchell Jr., MD, Trauma Center was activated and ready for Luke when he arrived. When EMTs unloaded Luke at the hospital, his brain was bleeding, his skull was cracked and he had a compression fracture to the spine, a broken neck and a fractured chest.
Luke was in intensive care for 15 days. Neurosurgeons performed a ventriculostomy procedure in which they drilled holes in Luke's head to relieve pressure. He wore a cervical collar, or neck brace, and was placed on a ventilator to assist with his breathing.
"We had some really awesome nurses," said Makayla Morrison, Luke's girlfriend. "I had thought about nursing before and this experience made me know for sure that I want to become a nurse."
On March 1, Luke was discharged from University Hospital to Rusk Rehabilitation Hospital, an affiliate of Encompass Health and MU Health Care, for rehabilitative care such as physical and occupational therapy. He was determined to make short work of his rehab and was discharged from Rusk Rehabilitation Hospital after only four days. After returning home, he continued follow-up appointments at MU Health Care.
Luke is back to hunting, fishing and working on the family farm. He was a freshman at Westminster College in Fulton, Missouri, at the time of the accident. He has returned to school and is pursuing a degree in middle school education. He plans to teach junior high science.
"My nurses and doctors were really cool," he said. "I thank everyone who helped save my life and get me back to my life."