Spencer Baehman lives and breathes baseball.
When the 11-year-old Columbia boy isn't at school or doing homework, he's outside playing catch or perfecting his swing. In fact, mounted next to the Baehman family's doorbell is a sign that reads, "If we don't answer, we're at the ballfield."
Spencer's bedroom is a baseball shrine. The walls are covered in hats, bats, medals and trophies. Beneath the brim of each hat are the letters "HDMH" written in permanent marker.
"It stands for 'Height Doesn't Measure Heart,' " Spencer explained. "It's a motto I learned from Toronto Blue Jays ace pitcher Marcus Stroman."
At 5-foot-8, Stroman is considerably shorter than most of his big-league peers. Spencer knows exactly how this feels. He has always been the shortest kid on his teams.
"My husband and I aren't very tall, and our parents aren't tall," said Stephanie Baehman, Spencer's mom. "We weren't too worried about Spencer's height until second grade, when we noticed he could still fit into the same baseball cleats he wore in first grade. That's when I thought, 'This isn't right.' "
Over the next year, the Baehman family visited multiple doctors and specialists, seeking to get to the bottom of Spencer's lack of growth.
"We tried everything everybody asked us to try, but nothing was working," Stephanie said. "It was frustrating. Nobody had any answers, and we were still at square one."
The Big Breakthrough
The Baehmans finally found some answers the summer before their son entered fourth grade, when Spencer's pediatrician referred him to Bert Bachrach, MD, chief of Pediatric Endocrinology at MU Health Care.
Bachrach put Spencer through extensive tests and scans to uncover the root cause of his short stature.
"Growth failure can be caused by multiple factors, ranging from things like heart disease to kidney disease to celiac disease," Bachrach said. "Other times, the patient might just be a late bloomer. With Spencer, we ultimately learned he had a true growth hormone deficiency — something I see in about 10 percent of the patients who are referred to me."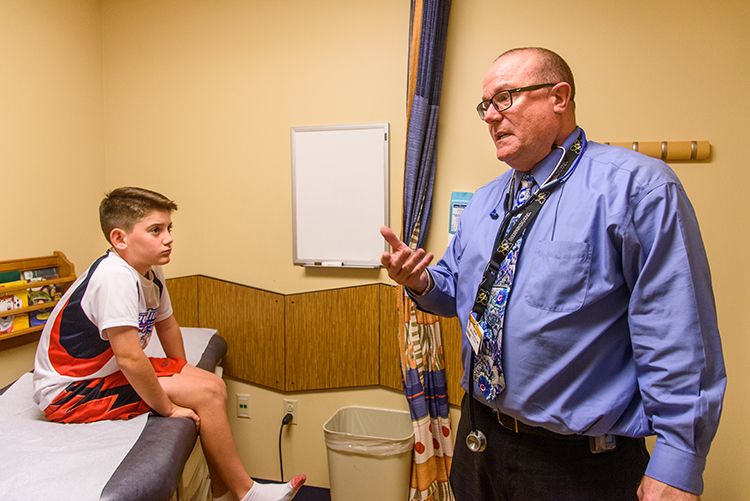 After explaining Spencer's diagnosis to the Baehmans, Bachrach laid out a treatment plan and painted an optimistic picture.
"Dr. Bachrach told us that growth hormone deficiency is fixable, and that Spencer would still one day reach his full height potential," Stephanie said, "From that point on, we all felt relieved. We knew we finally brought Spencer to the right place."
Starting in March 2017, Spencer began receiving nightly growth hormone injections — a scary prospect for a kid who hates needles.
"Spencer was the kid who would scream and cry and get sick to his stomach when he had to get a shot, and I was the mom who couldn't watch when they gave her kid the shot," Stephanie said. "Needless to say, this was a major adjustment for all of us."
To ease the learning curve, a MU Health Care nurse visited the Baehmans at home to administer the first injection and teach Stephanie and her husband, Beau, how to properly do it themselves.
Later that evening, the family took another important measure to make Spencer's nightly injections more bearable: They went into their garage, had Spencer stand with his back against the wall and used a pencil to mark off his current height.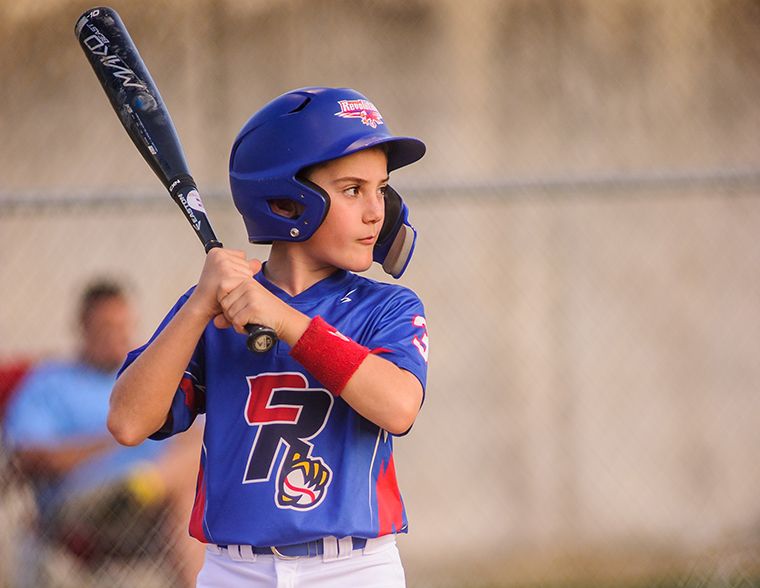 Batter Up
After one week of injections, the Baehmans returned to the garage for another measuring session. Spencer walked over to the wall, and his mom carefully placed the pencil atop his head and drew another line.
He grew one-eighth of an inch.
"We knew it was working immediately," Stephanie said. "These days, we measure Spencer every two weeks. Being able to visualize the progress has really helped him become more comfortable with the shots."
Spencer has grown more than 6 inches since beginning hormone shots. Four of those inches occurred between August 2017 and August 2018. He now stands 4-foot-9 and weighs 91 pounds, and he will continue receiving nightly injections until doctors determine he has reached his full height potential.
"Being short used to bother me a lot, but now I feel pride every time we put new notches on the wall," Spencer said.
Spencer's increased size has translated to big results on the ballfield. During a recent game, he hit the ball so far that it thumped off the outfield wall. Stephanie said the parents in the stands let out an audible gasp when it happened.
"If I never got injections, that probably would have just been a routine single to the outfield," Spencer said. "Since growing, I've also noticed I have a better glove in the field. It just feels so good to know that I can still achieve my goals of playing baseball in high school and college."
Stephanie and Beau Baehman went to bat for their son when he wasn't growing, and thanks to their persistence — and Bachrach's expertise — it's now a whole new ballgame for Spencer.